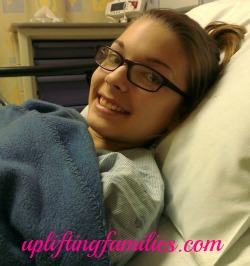 Today is the day that my daughter gets her second cochlear implant.  I have to admit even though I have already been through this same surgery 12 years ago with my daughter, I was still nervous going into the hospital and waiting for her to have her surgery done.  My daughter was born with a severe to profound hearing loss in both ears.  In 2001, she received her first cochlear implant only on her right side and at that time doctors typically implanted only one side.  Cochlear implants were still fairly new.  At at the time, the evidence proved that only one cochlear implant was sufficient for recipients to be able to here.  The doctors suggested that we wait to see if the technology would improve before deciding to implant her other ear.  After careful consideration, we decided that it was now time for her to get a second cochlear implant.
Disclosure:  This blog post is for informational purposes only.  The opinions reflected in this post are my own and based upon my own experiences.  If you have any questions about cochlear implants and surgery, please contact an ENT doctor who specializes in cochlear implants.
Over the last 12 years, the technology has changed and the electrode has gotten smaller.  The smaller electrode goes into the cochlea, which is the snail shaped part inside of your middle ear.  The smaller electrode doesn't damage nearly as many of the hair cells that are inside of the cochlea.  The hair cells inside of your ear are responsible for changing sounds that you hear and turns them into electrical signals that your brain can understand.  Once a hair cells inside of your cochlea are damaged the damage is permanent.  The hair cells don't regrow or regenerate so once the damage is done it is done.  Damaged hair cells lead to hearing loss and tinnitus.
Comments
comments