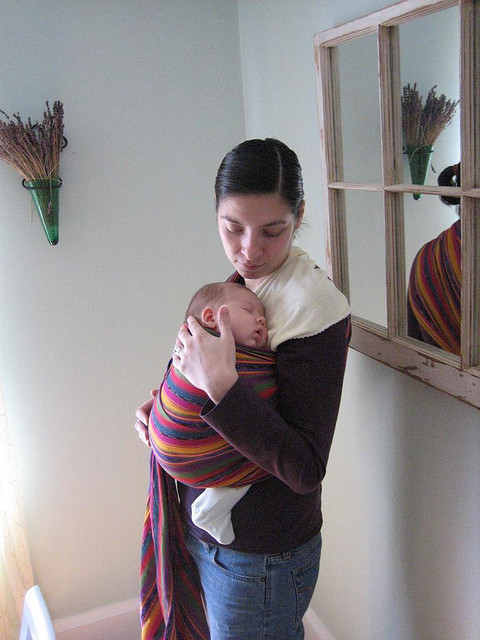 Holly Easterby loves to talk with parents and share stories about their child-rearing wisdom. She currently writes for several child-centered sites including Bonza Brats and this one. In this article, she talks about babywearing and how you can make this bonding experience richer.
Parents everywhere talk about how hard it is to perform daily tasks while taking care of the children. South East Asian countries however have solved this particular problem easily enough by wearing their babies!
The trend is catching on in Western countries including the United States with specific products specially created to make your child wearing easier and infinitely safer. Even with that precaution however, parents should keep in mind that some things may still go wrong. Fortunately, being fully prepared for these eventualities can completely diminish any risks while keeping your baby warm and comfortable near your skin.
Why Start Babywearing?
So what exactly are the benefits of this baby-care technique? Although there's nothing wrong with using strollers or cribs for your child, babywearing offers a host of "pluses" that makes it more useful for parents. Here are just some of the pros associated with the system:
You are constantly in touch with your child, creating a deeper bond with parent and baby. Being close to your heart can also calm the infant because the heartbeat is familiar to them while in the womb.
You're free to use both hands, allowing you to perform basic tasks every day.
Some parents use babywearing to practice elimination communication or toilet training wherein a child can easily communicate the need to potty.
Of course, although you might understand the basics of babywearing, it's important to be aware of common problems you might face while following this technique. In the following paragraphs, we'll be discussing just what you should and should not do while keeping your baby cuddled close.
Dos of Baby Wearing
Keep the baby as high and as close as possible. This will reduce the stress on your back.
Do make sure that the child is positioned naturally. You're supposed to mimic the typical position taken when a child is cradled in your arms so no contortions!
Do adjust accordingly. Some discomforts may be felt at first and this is natural. Change the configurations of your carrier as needed.
Do be careful when buying a sling. Make sure the fabric isn't stretchable because this leaves room for the baby to fall backwards. Most slings also have weight limits so check before making the purchase!
Do consider what the baby is wearing. Remember, you don't want him to get too hot so if the weather is particularly high, light clothing will help limit the heat.
Constantly browse for new wearing techniques to find the one you and your baby is most comfortable in. There are dozens available online!
Do make sure the baby's head is well protected, especially when it comes to newborns. Check every few minutes to ensure proper positioning of the your babies head.
Do check videos to find out exactly how to create the wraps. Images aren't always as effective and it's crucial to achieve perfect form when wearing your baby.
Do start walking around when wearing your baby. The motion helps in keeping them calm and studies have shown that it can help them fall asleep.
Comments
comments