This is a promotional post for Salonpas. I was provided product. All opinions are 100% my own.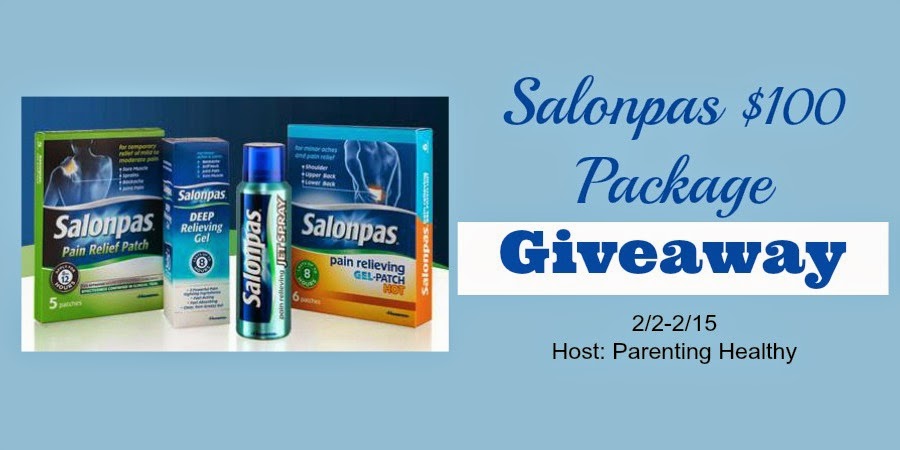 Salonpas $100 Value Product Package Giveaway
How is your 2015 going? Are you on track to staying healthy? One of the main reasons people have a hard time maintaining their fitness regimens is the pain that can occur when you start moving your body again after a period of time being inactive. Even the most active like me, can get the sore muscles and aches after a long workout. When you wake up aching, it is very hard to find the motivation to keep going. The next time you find yourself in this situation, you need to keep moving past then pain and I'll explain. Salonpas is here to help and I hope you learn a thing or 2 here and from
Salonpas.com
so you can stick to your goals and keep the pride you feel when you are making healthy decisions and getting the exercise you need.
One word of advice: Stretch
I cannot stress the importance of stretching before and after a workout. It is by far one of the best pain preventative moves you can take. Not only for those who are not very active, but even I never skip stretching in a workout. In fact, some of my worst pain I have had was from before I realized this myself. I would ache so bad and figured it was just because I have not exercised the way I had started out. I would wake up so sore and skip a workout. Sometimes it would take me days to get rid of the pain and having to take OTC pain relievers for comfort. I cannot remember the last time I took oral pain meds because of a workout due to stretching and topical treatments. It was told to me by a trainer at one point that working out through the soreness (so long as your pain isn't from damage done) and stretching is the best way to prevent further pain. He was right! I would be sore, workout anyway and feel a bit better!
When you exercise your muscles shorten. When they shorten, you cannot use their full range of motion and you push to complete workouts. Stretching promotes flexibility and enables you to use that full range of motion more easily. When you don't stretch, you can cause injury and end up with ligament or muscle pains and strains. I always warm up my muscles or at least start a workout and after 10 minutes, do my stretches depending on the type of workout I do that day.
Skip the oral pain meds
We have oral supplements and medications for everything. The answer to all illnesses, discomforts and symptoms is pills and more pills! So now you have a hard workout and your body aches and you don't need more pills! Salonpas is effective and topical! The
Salonpas Pain Relieving Hot Gel-Patch
lasts up to 8 hours and is great for shoulder, upper back and lower back pain. The cloth is breathable and easy ton apply by yourself. The
Salonpas Pain Relief Patch
with Menthol is a very soothing patch and one of my favorite for sore muscles, sprains, back and joint aches. It lasts 8-12 hours and is easy to apply. The
Salonpas Jet Spray
is great to keep in the gym bag. A quick spray onto areas of strains, bruises, sprains, simple backaches and even arthritis offers fast and soothing relief. I use it at night when my knee pain acts up. Just spray on and head to bed for pain-free rest. The
Salonpas Deep Relieving Gel
is non-greasy and is also great to rub onto backaches, stiff neck, joint pain and sore muscles. You get up to 8 hours of relief from the gel.
Those are just a few of what Salonpas offers and you can win Salonpas products for yourself! Enter below!
1 lucky reader here will win $100 worth of Salonpas products! Open to US. Ends 2/15. Enter below and good luck!
Entry
-Form
Disclaimer: Parenting Healthy and other participating Bloggers are not responsible for prize fulfillment. Winner will be emailed and the sponsor will ship prize.
One entry per household daily. Winning entry will be verified and void if entry tasks cannot be found or proven complete. 
Comments
comments