Scotties Cough & Cold Survival Pack Giveaway
March 24 – 31, 2015
Open to US

Spring is in full swing in Texas and I can tell. I suffer from allergies and when the trees and grass start blooming my allergies start going bonkers. My sinus get heavy with pressure, my ears get fluid build up, and then either my nose will run or I will start to cough. I could use this cough and cold pack now!!!!!
By taking a look outside I can assure you that springtime is finally here! Does anyone else feel like winter was way longer than usual this year? Spring is my favorite season, but my allergies would disagree with me.
While I love looking at all the flowers in bloom and the animals start popping up again, my nose runs and itches and I always have to make sure I have a pack of Scotties tissues around when I feel a sneeze coming on. With that in mind I wanted to bring you a brand new giveaway featuring Scotties Tissues!

Bringing You Moments To Celebrate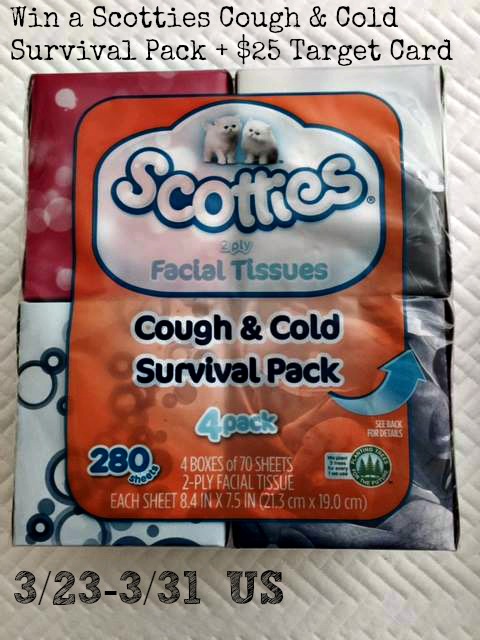 Sponsored by Scotties
Organized by Celebrate Woman Today
Scotties tissues are soft on your nose, but hold up to your colds and coughs! Enter to below to win a Scotties Cough & Cold Survival Pack and find out for yourself!

Prize – Scotties
Cough & Cold Survival Pack + $25 Target Card

Complete the tasks below to earn entries into this giveaway.
Refer your friends using your Unique Link inside Rafflecopter to earn even more entries to win.
Ends at 11:59pm EDT on March 31, 2015
Comments
comments