No matter how you observe the holidays, establishing a yearly tradition is both fun and meaningful for families. It creates an air of anticipation, giving both parents and kids something to count on and look forward to. If you haven't established a family tradition that takes place around the holidays, consider trying out some of these fun, festive activities. See which ones take hold, and repeat them year after year to relive the excitement.
Find the Perfect Tree
A timeless tradition, the hunt for the perfect Christmas tree is a classic activity enjoyed by families. Hold off on converting to electric, and savor the adventure of sizing up and comparing the different conifers. Finding the perfect tree is a fun family activity whether you're traveling to a U-pick farm or stopping by your local lot. Bring it home, prop it up, and have everyone decorate it together.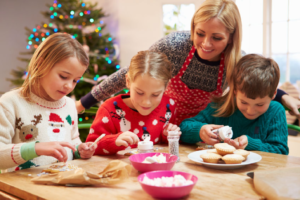 Decorate Cookies
Sure to satisfy sweet-tooths, cookie decorating is a fun activity that can be done at any time of year. Recruit their help for baking, and have your child crack the egg and stir the dough to watch them marvel as their creation comes to life in the form of their favorite treat. Around the holiday season, cut the dough into festive shapes such as candy canes, silver bells, and gingerbread men. Once the dough cools, have the family gathered around the table prepared with frosting and sprinkles. Stash the treats in a cookie jar, or – better yet – take a walk and pass them out to neighbors to spread the holiday cheer.
Holiday Reading
To remind the children that Santa is watching, read through the holiday classics each night leading up to his annual arrival. Take a family trip to the library and pick out all of your favorites, or store your keepsake treasures in a special place for the holiday season. Cozy up to the fire as you read through timeless classics such as How the Grinch Stole Christmas and The Night Before Christmas.
Offer Thanks
Too frequently children – and parents! – become fixated on gifts during the holiday season. To prevent Christmas from becoming all about presents, establish a family tradition that focuses on gratitude. Consider drawing a gratitude tree on a chalkboard —and then ask each family member to contribute. Make sticky leaves or ornaments onto which everyone can jot down something they're grateful for. It can be practical (toilet paper, a car), universal (running water, a roof overhead), or personal (a family vacation, new pet). Encourage everyone to think of something they're grateful for every day before running out the door this holiday season, and watch the gratitude tree grow into beautiful – and meaningful – décor.

Watch Christmas Lights
Every family enjoys coming home to a well-lit house, but the real fun is found when you search for neighborhoods that partake in a little friendly competition. These blocks tend to be known for their dazzling Christmas lights as each neighbor tries to one-up the other, and with new Christmas lighting technologies, their displays are more impressive than ever. Drive your car over to Candy Cane Lane, park at one end, and have a delightful family walk to the end of the street. Don't forget a thermos of hot cocoa!
Give Back, as a Family
There's no tradition more rewarding than spending time volunteering as a family. Deck your clan in ugly Christmas sweaters that are sure to draw smiles, and head down to your local church or soup kitchen to give back to the community. It's a great way to encourage the spirit of the holidays, while at the same time teaching your kids a valuable lesson about helping those less fortunate.
Family traditions can be as simple or as complex as you make them. They provide ways for family members to spend valuable time with each other, and they create meaningful memories to be cherished for a life time. It's never too late to start a new tradition! Give one of these fun and festive activities a try, and find out how rewarding it can be to put a little effort into some family quality time.
Comments
comments