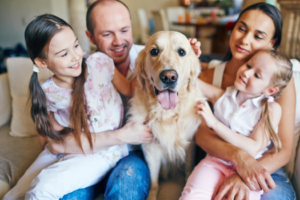 DNA testing for your family dog has come a long way in recent years, and there's finally meaning in having a comprehensive test done. Not only can you learn a lot more about your dog through genetic testing and finally solve the family debate over whether he or she has a hound mother or a pitbull grandpa, you'll also gain valuable insight into the fundamental makeup of your dog. That's information you and your vet can use to keep your dog healthy and happy for years to come.
Curiosity. Many families decide to have their dog's DNA tested purely out of curiosity. If you're unsure of your dog's pedigree, curious about its history, or simply want to know more about how different genes that make your dog unique, a thorough DNA test can tell you everything you want to know and more. Wondering why your dog has curly hair even though his or her litter mates don't? A DNA test may help. Wonder what sort of dogs added up to produce your mixed breed dog? A DNA test can give you the answer. It can be a lot of fun for the family to learn the answers to all these questions, and it's educational.
Improved healthcare. For a more practical reason to consider having your family's pet DNA tested, consider the potential benefits in the veterinary care your dog will receive. If you can provide your vet with a detailed analysis of your dog's genetic history and predispositions, he or she will be able to offer better-tailored advice and care. Because dogs can't describe their symptoms to the doctor the way a human can, this sort of detailed genetic analysis plays a far more important role in quickly and accurately diagnosing problems and offering treatments. And diagnosing and treating current symptoms is only half of the benefit to health care.
Preventative measures. This ties in directly to overall health care but deserves its own section because of just how important it really is. Different dog breeds have different predispositions as far as illness and aging go, meaning a firm understanding of what your dog's genes can help you give him or her a longer, healthier life. Highly detailed modern DNA tests can even identify the genes responsible for different illnesses and predispositions, giving you a precise blueprint of what to expect as your dog ages–and what to do about it. Knowing that your dog has a propensity for joint problems, or tooth problems, or eye problems can give you a blueprint for care that will minimize the chance of those issues becoming severe.
Training. Learning more about the genetics of your dog and their various inherent traits can also offer benefits to training and expectations for behavior. For example, if you find out your dog may have difficulty with hearing or sight, it can help you identify the differences between stubborn behaviors and a simple inability to see or hear your commands. You may also gain insight into what your dog's ancestors were bred for– does he or she have shepherding, protection, tracking, or other fun or useful behaviors "baked in" so to speak?
Aid research. The idealists out there may find it worthwhile to invest in DNA testing for their family pet simply as a way to help vets and other animal researchers better understand dogs. There's a lot of benefit to breeders, veterinarians, and pet owners if we develop a more thorough understanding of canine genetics. We'll be able to make our dogs happier, healthier, safer, and smarter through a better understanding of what makes them tick. A DNA test for you dog doesn't just help your do–it helps everyone's dog and other pets in the long run.
Parting thoughts. Getting your dog DNA tested is about more than scientific curiosity and pedigrees–it also helps you learn more about your dog so you can take better care of them. The right test can add many healthy years to your dog's lifespan, help you prepare for what's coming, and make sure that if a health problem does crop up, your vet knows exactly what to look for.
Comments
comments