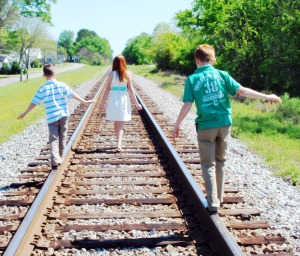 Donna, from Blendermom.me, wanted to share how her parents layed the proper foundation that led her to accept Jesus as her Savior.  Even though life doesn't always go as planned, she felt without her relationship with God she wouldn't have survived the things that she went through as an adult.  Teaching your children about Christian values can help your child be able to handle all of the things that life might throw their way.  As we all know life is full of changes but God stays the same and doesn't change.  Thank you for sharing your story Donna, I hope everyone enjoys her story.
When I was four years old, my mom babysat two girls to make extra money.  One day I had, in my mind, felt I had been extra mean and horrible.  I had stuck my tongue out at the older girl (who was around my age) as well as took her swing from her.  She then tried to bite my hand to let go of her swing in which I then ran inside and told on her, getting her into big trouble because her mom had arrived at that moment.  These things make me chuckle now, but they were very real to me back then.  After the girls had left I went straight to my mom and told her that I wanted to get saved.  She asked me why.  I told her that the devil was after me because I felt like I wanted to do mean things and that I wanted Jesus to come into my heart, forgive me of my sins, and help me to do good.  She led me in the prayer of salvation and that was the true beginning of what I call my "Jesus story".
My life has taken so many turns and twists in ways that I could not fathom since that day such as anxiety, health issues, abusive marriage, divorce, guilt, and ultimately forgiveness.  If I had not had my Savior to rely on I would not have been strong enough to survive and that started with the foundation of faith layed by my parents.  If you think about it, the world's values are selfish and focus inwardly such as wealth, pleasure, success, fame, prestige, and power.  Christian values seem to be the opposite of the world's values. Galatians 5:22-25 NLT "But the Holy Spirit produces this kind of fruit in our lives: love, joy, peace, patience, kindness, goodness, faithfulness, gentleness, and self-control. There is no law against these things! Those who belong to Christ Jesus have nailed the passions and desires of their sinful nature to his cross and crucified them there. Since we are living by the Spirit, let us follow the Spirit's leading in every part of our lives." 
Values make us who we are and I don't want selfishness and "it's all about me" mentality to rule my children but rather teach them to live by the fruits of the Spirit.  Like most parents, I want my children to grow up to be strong, kind, caring individuals.  Through God's word, I am able to not only tell my children to be good but I can show them how and why it's important.
A very important way of laying a faith foundation for your children is getting the family established in a church.  It not only provides an extended network of support but also helps teach kids about committment and serving others, there again, the opposite of what the world view of indulging in oneself will try to teach your children.  The Bible is very clear on the importance of being involved in church.  Hebrews 10:24-25 NLT "Let us think of ways to motivate one another to acts of love and good works.  And let us not neglect our meeting together, as some people do, but encourage one another, especially now that the day of his return is drawing near."  Christy recently wrote a great article on finding the right church for your family.  In it she explains why it is important.  "The people are what make up the church and Jesus wants us to attend church so that we can encourage each other, hold each other accountable without judgement, support one another, love one another, take care of spoken and unspoken needs, and share the love of Jesus Christ.  We were made and designed to be around people."  https://upliftingfamilies.com/find-church-family/  I encourage you to read the rest of her article for some very good straight forward advice on the subject.
Another very important reason is that Christian values help provide children with boundaries grounded in love.  This in turn will help them feel safe enough to thrive and flourish.  Dr. Dobson on "Family Talk" stated, "There is security in defined limits. When the home atmosphere is as it should be, children live in utter safety. They never get in trouble unless they deliberately ask for it, and as long as they stay within the limits, there is happiness and freedom and acceptance. – See more at: http://drjamesdobson.org/Solid-Answers/Answers?a=023fcea0-f871-4f55-9427-9d37920c4234#sthash.K5oVLZYx.dpuf  I love that he states there is freedom in defined limits.  Kids feel more freedom to explore the world around them when they can trust that you will only let them get so far.
Also, a faith foundation will help your children find their purpose.  We all were made for a purpose and who better to know what that is than the One who created us!  In the movie "Everafter" the prince is giving his parents a hard time.  He doesn't want to take over his father's throne and one day become king. He was always running off and being defiant.   However, he meets and falls in love with a girl and through that love he finds his purpose.  I love the words he uses as he is trying to tell her.  The prince says, "I use to think that if I cared at all I would have to care about everything and I would go stark raving mad!  But now I've found my purpose.  It's a project actually inspired by you and I feel the most wonderful…..freedom!" 
We find freedom in finding our purpose in life.  We find purpose through God's love and what better way to help our little ones find meaning and purpose in why they are here and what they were created to be than in leading them with God's grace and love.  That's what being a Christian is all about and we obtain that freedom through His son Jesus.  1 John 4:9-11 NLT " God showed how much he loved us by sending his one and only Son into the world so that we might have eternal life through him. This is real love-not that we loved God, but that he loved us and sent his Son as a sacrifice to take away our sins.  Dear friend, since God loved us that much, we surely ought to love each other."  Then we, in turn, share that by loving others  which instills values of placing others first before ourselves and by that we might make a small difference in changing a selfish world.
Teaching Christian values lays a foundation in faith.  It gives my children a network of support and helps them learn to serve others.  These values help them explore who they are and find their purpose and place in this world and helps them grow to love God and love others.  I want to give my children a beautiful beginning to their own "Jesus story".
What values do you teach your children?
Comments
comments