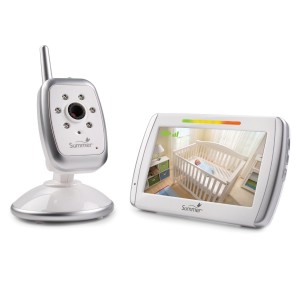 When it comes to safety of newborn baby, parents are usually little nervous and want to observe their child every moment. This is where baby monitor technology comes into picture. It helps mother to keep an eye on the child even from a distance and helps her to carry out other important house chores. The main idea behind this concept is that mother can move around the house doing routine chores and still be able to keep a tab on her infant by viewing or listening to her infant.
Purchasing a baby monitor can prove a daunting task at first, due to endless number of products available in the market. It becomes little bit difficult especially for first-time parents, since they are not sure about what to look for in the product, essential features and what pitfalls to avoid.
Baby monitors are available in different colors, sizes and styles. This equipment can vary from model to model, but every baby monitor has minimum two units i.e. a base and a receiver. At the time of buying baby monitors, it is advisable to buy one that fits your lifestyle as well as home in which it will be used.
The following are some of the important features to help you select a  baby monitor for your child. These things should be considered before buying baby monitor:
Mobility
Baby monitor offered in the market comes with different levels of mobility. The base of this equipment generally plugs into the wall, usually nursery or wherever your baby is taking rest. The receiver of this equipment can either be plug in or mobile. If you are wishing to purchase monitor that you can take along from one room to another room, then you will have to invest in mobile type of baby monitor.
Multiple Monitors
Buy [amazon_link id="B00DNBA82S" target="_blank"  rel="nofollow"]baby monitor[/amazon_link] that has an extra receiver. This will allow you to have a baby monitor handy or you can keep one for charging, while you use the other one. Also, it comes handy when you lose items such as phone, remote control, etc.
Other Important Attributes
Other essential attributes of baby monitor are rechargeable batteries for receivers, remote controls and notification if baby wakes up and even musical monitors. Opt for one that suits your needs.
Sound Quality
The most essential aspect of baby monitor is the quality of reception you get. Several monitors are able to handle average requests of parents. Only few households would be there that may have problems with interference and may need to opt for higher capacity of baby monitor.
To make sure you get the best baby monitor in Melbourne for your toddler, it is advisable to read online reviews and consumer feedback regarding the product.
Comments
comments