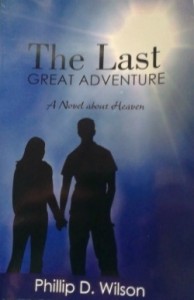 If you have ever lost a loved one, I highly recommend that you read this book.  Most people realize that once this life is over with, they move on to a bigger and better place.  If you are a believer, you are probably anxious to go home to be home with your Lord and Savior.  After all God said in John 14:3, "When everything is ready, I will come and get you, so that you will always be with me where I am."  We have no clue when Jesus is going to come back for each one of us and we don't know the day or hour when he is going to return to Earth for everyone.  As a believer, it is important that each and everyone one of us are ready for his return.
When I first read the title "The Last Great Adventure", I assumed that this book was going to be about death and dying rather than focusing on our life in Heaven after we pass on.
Disclosure: I received a complimentary copy of this book from BookCrash so that I could review this book.  All opinions of this book are 100% my own and I didn't receive any compensation for this blog post.
Like this review? Click on the photo for more information.
This book explains what it is like for a father to lose a child at an early age.  Instead of focusing on the negative, Pastor Phillip D Wilson decides to try to focus on the positive as he begins writing this book.  He used this book as a way to help him with his own grief and healing as he dealt with the loss of a child.  When he loses his son at the age of 19 along with his son's girlfriend in a tragic accident, Pastor Wilson attempts to describe what life is like in Heaven for his son and girlfriend even though they didn't have a full life on Earth.  This book also describes how Noah and his girlfriend touched the lives of other people.
After the two teenagers arrive in Heaven, they realize that their lives have truly began.  Once they are in Heaven they discover that they get to meet relatives and friends from their previous life and they also get to meet some of the people that they never had the opportunity to meet.  Most Christians realize that we were put on this Earth to serve Him but in this book Pastor Wilson describes how we still have missions and opportunities to serve God in our afterlife.  I realize that there will be some people who don't believe or agree with the Pastor's story.  Even though this is a Christian fiction book, the author references and describes Heaven from a biblical perspective.
Synopsis from the Back of the Book
What if… …The most important day of your life was the last one? …The end of your life was really the beginning of something much better? …The life you thought was "real" was only a dream, and death was the wakeup call? Join two teens with everything to live for, that only begin to live after this life is over. What begins as a tragedy becomes a fantastic journey into the reality of eternity, as they enter a land where faith becomes sight and eternal life becomes… …The Last Great Adventure.
About the Author
Phillip D. Wilson is a writer, speaker, pastor and musician from the Middle Tennessee area. He and his wife Sheri live in a renovated 1940's farm house north of Nashville, where Phillip serves as a bi-vocational pastor.
Phil had written for pleasure for several years, but began his first novel, The Last Great Adventure, in response to the loss of his teenage son Noah and Noah's girlfriend Kelsie in a tragic 2010 motorcycle accident. The grieving process caused Phil to try to imagine what it must be like to live in the afterlife of Heaven, and The Last Great Adventure was born.
What book are you currently reading?