Photo Credit: Flickr
I love springtime because it means warmer temperatures and my family can get outdoors more often. This spring we have been getting a ton of rain and it makes has made it difficult for us to spend time outdoors because the ground is super wet. With the ground being wet, it has made it a breeding ground for mosquitoes. However, the recent rains have helped fill our area lakes.
Disclosure: I received a Precision Pro Digital Food Thermometer in order to facilitate this post. All opinions are 100% my own.
During the summer time, I prefer to use the BBQ grill to prepare our meals. I don't like using the oven because it heats up the house and makes the air conditioner work harder. Do you like using the BBQ grill to prepare meals during the summer time? I really need to replace our grill soon so that my husband help me with the cooking duties especially on the weekend.
Finding the Right Meat to Grill Out
There are a ton of different meat selections that you can use to grill out depending on your budget. You can even use different cuts of meat too. If you are using a lower quality of cut, you can use a meat tenderizer and marinade to make it taste better. Try some of these favorite meats:
hot dogs
pork chops
chicken legs or breasts
steak – flank or t-bones
brisket
hamburgers
Choosing a Grill
I have had several grills over the last several years and they have all had their advantages and disadvantages. Depending on how much you grill out, will help you determine how much you should invest in a grill. Here are the types of grills available on the market:
Charcoal grill – uses charcoal briquettes, wood, or a combination to cook your food. If you want an intense smoky flavor to your food or don't grill out very often then I highly recommend a charcoal grill. The good thing about charcoal grills, they are portable and you can even use them when your tailgating or camping.  Plus, they are usually ready to cook your food in 30 minutes or less depending on the size of the grill.
Gas grills – uses propane gas to cook your food. Propane gas burns cleaner and it cheaper per use over charcoal. Most of the new models often have ignition switches built into the grill for easy lighting. A gas grill will give you more control over the cooking temperature so that you can cook your food quickly and evenly. You can even begin cooking your food after a few minutes of preheating. Make sure that you clean your grill after each use to protect your investment.
When I am cooking out on the bbq grill, I always have a hard time telling if my meat is thoroughly cooked before I serve it. Before I had a Eat Smart Precision Pro Digital Food Thermometer, I would have to cut a piece of meat (usually the thickest piece) to help me determine if it was fully cooked. If the meat wasn't done, I would end up leaving the meat on the grill for a bit longer to finish cooking and by the time it was finished it was usually dried out compared to the rest.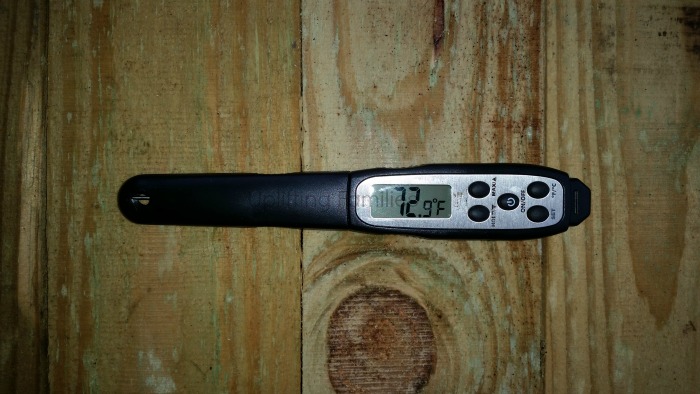 Now I use the Eat Smart Precision Pro Digital Food Thermometer, to ensure that the meat is to the desired temperature inside before pulling it off the grill. Simply stick your food thermometer it the thickest section of your meat and get instant temperature readings in 5 seconds are less. The inside of your meat should be aa minimum 165° F for chicken, pork, and steak and a minimum of 155° F for hamburgers (learned this from a food safety course). The food thermometer makes a small hole in your food so that it doesn't let all the juices escape.
Learn More About the Eat Smart Precision Pro Digital Food Thermometer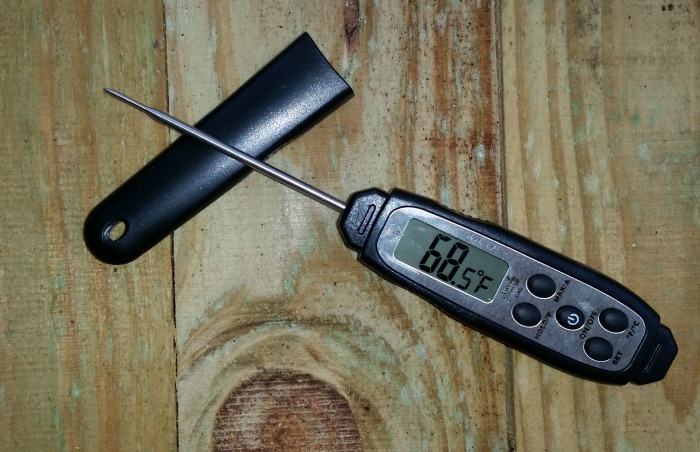 The Precision Pro allows DAD to easily grill or roast food to just the right temperature.  Simply remove splash proof cover from steel probe, insert into the thickest part of the meat and in 5 seconds or less, the proprietary sensor registers an extremely accurate internal food temperature.  The accuracy of the thermometer translates into food grilled to perfection.  Other innovative features include:
EatSmart designed specifically for professional and home cooks alike
Durable,   reliable  and  easy to use
Rapid Response Time – Temperatures in 5 Seconds or Less
BROAD Temperature Range -40F  to  450F
1.5mm Step-Down Probe
Reduces Puncture Hole Size to Keep Juices in Meat
FDA  Approved Innovative Splash Proof Design
1 CR2032 battery included
EatSmart 2 year Full Warranty
Order Dad an Eat Smart Precision Pro Digital Food Thermometer for Father's day on Amazon. This thermometer will make it easier for dad or the cook to know when the food is done and protect your family and friends from potentially eating raw or under-cooked food. Don't forget to read more food safety tips here.

Does your husband or significant other enjoy grilling out on the grill?
If you find this article helpful and useful, please share it with your family and friends. Sharing helps Uplifting Families grow. Thank you for visiting.
Comments
comments