I wanted to share with you how to make a Hand and Foot Print Bunny. I took the idea of my first project and expanded upon my original idea, I was going to attempt to hand draw the rest of the bunny. I am not an artist so that would have been a really bad idea. So I decided to add my son's hand print along with his foot prints. I love that it combines both of my son's hand and feet, into a single project, that I can keep for years to come. In fact, he is growing up fast and I am trying to savor the memories. This craft took a bit longer, about 20 minutes, to make since it involved painting both his feet and one of his hands.
Items Needed:
Construction Paper
Bowl of Water
Paint Brushes
Crayola Washable Paints
Towel or Newspaper
Baby Wipes
Pencil
Sharpie Marker
How to Make Hand and Foot Print Bunny
I laid an old towel on our dining room table to prevent paint from getting on the table. You can also use newspaper if you have some lying around your house.
Pick a piece of colored construction paper.
Paint your child's right foot with white washable paint.
Place your child's foot onto the construction paper at a slight angle pointing towards the edge of the paper. Press firmly on your child's toes. I didn't do this and I was missing on of my son's toes.
Use a wet wipe to clean off your child's foot.
Repeat steps 2 through 4 using your child's left foot.
Pick one of your child's hands and paint it using white paint. Don't paint the thumb.
Place your child's hand in the center of the paper positioned evenly between the feet and move up several inches. You want to leave enough space so that you have room to draw the bunny's body. Also, you want the fingers to be slightly apart if possible to create the bunny's ears. (see photo)
Draw the bunny's body using a pencil.
Then fill in the bunny's body using white paint. Try not to paint over the footprints.
Carefully, even out your bunnies ears and face using a paint brush and white paint.
Paint the area between the bunnies ears using pink paint.
Add your bunnies eyes, nose, mouth, and pads on the bunny's feet. Note: I didn't have black paint so I mixed brown and dark blue to make a very dark color to use for the mouth.
Allow the paint to dry for several hours.
Outline the bunny using a sharpie marker and add the whiskers to your bunny's face.
Finished Hand and Foot Print Bunny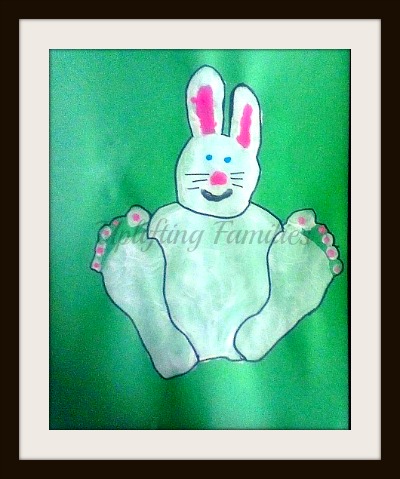 Comments
comments