Son, you are an absolute joy to have around and you light up my life.  You look just like your daddy and you have the sweetest personality.  I am very thankful to be your mommy.  Happy Birthday Day Baby Boy, I can't believe that you are two years old already.  In fact, mommy has no idea where time has gone but you are turning into big boy now.  Mommy wanted to share some of her favorite memories of you, memories that will last a lifetime in my heart.  Since you were born, here are a few memories that stand out and I wanted to share them with you.
I miss those tiny kicks, jabs, and movement that made me smile each time that I felt you move while you were in my belly.

I loved feeling those tiny hiccups that you got often while you were in mommy's tummy.
Daddy caught me holding your hand for the first time, he even captured this moment with his camera.  I held your hand when they placed you on the hospital bed next to me, while they wheeled us from the operating room back to the recovery room.
I remember the first time I breastfed you and gazed into your eyes.
I miss all of those late night feedings and the snuggle time that we had together while I breastfed you.
Seeing your face light up when you discovered how to roll over, sit up, crawl, and walk.
The way that you use your good manners each and every day.
I love when you tell me that you love me.
I love when you learn a new word and you come running to tell me all about it.
I love watching you learn new things and discover the world around you.
I love the way that you interact with your older brother and sister, I know that you love them.
I love watching you play with daddy on the floor and the nightly "tuck tuck" sessions.
I love when you try to hide in the pantry while you are saying "bye you too" as you close the door, trying to I hide from us while you peep out a crack in the door.
I love your sloppy wet kisses and hugs.
I love when I hold you and you start patting me on the back.
I love watching you try to jump off the back patio on to the grass.
And the memories go on an on, mommy can't wait to see you become the man that God designed you to be.
Happy SEcond Birthday Baby Boy!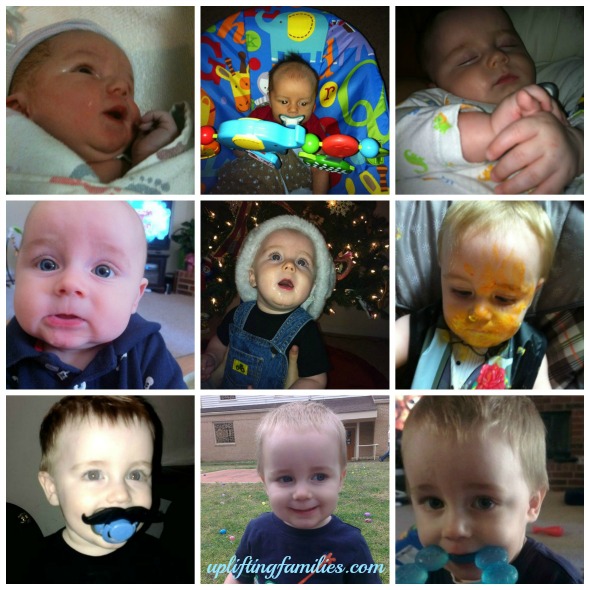 Please share a memory about your why you love being a mommy or daddy to your child/children?
Comments
comments