Directions for Making Homemade Donut Holes or Donuts
To make donut holes, cut up biscuits into small pieces.  Donuts are also easy to make.  To make the center hold use the top from a two liter bottle.  Use the top to put a hole in the middle of the biscuit dough.
Mix about 1/4 cup of sugar in a bowl.
Add cinnamon to the sugar and stir it so that it looks light brown
Pour oil into the frying pain so that it will cover about half of your dough.
Turn on burner to med-high.
Wait until the oil is hot before placing the dough into the oil.
Once the oil is hot, place several pieces of dough into the oil.
The donuts cook very quickly and need to be turned over using tongs to avoid burning yourself.  This is a good place to encourage your child to help you.  I had my son stir the donuts after I placed them into the sugar mixture in the next step.
Once the donuts are fully cooked, place donuts in cinnamon sugar mixture.  Quickly stir or turn over the donuts before the oil dries.  The oil allows the sugar mixture to stick to the donuts.
Place sugar covered donuts onto a plate.
Repeat as necessary.
Enjoy!
Cut Up Biscuit Dough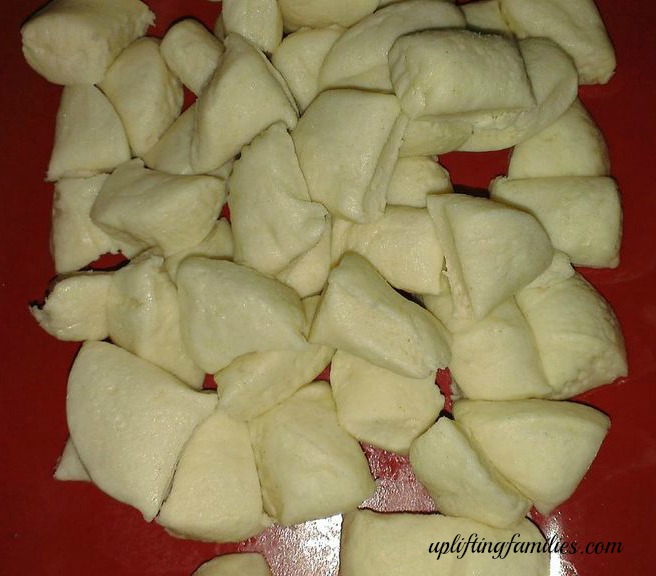 Cinnamon Sugar Mixture
Finished Donut Holes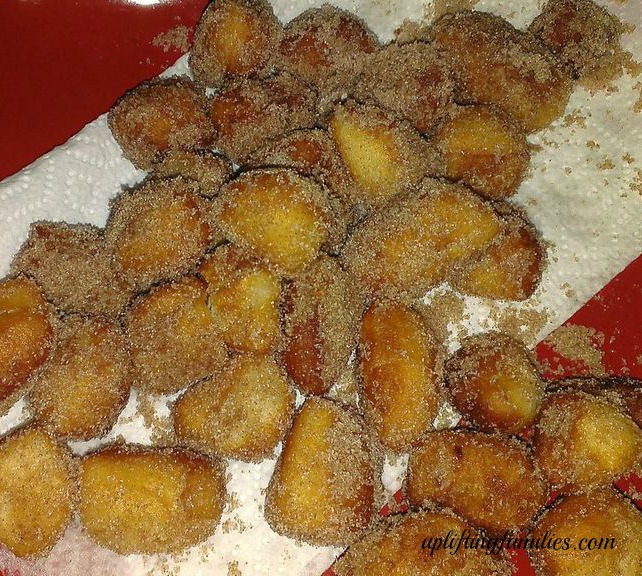 These are a tasty treat for the entire family.  I learned how to make these while growing up and when I made them to put on my blog, my family enjoyed them so much that they asked for more.  They are easy to make and you can even experiment with different combinations of toppings, such as frosting, powered sugar, and more.
Do you like donuts?  Try these homemade treats.
Comments
comments