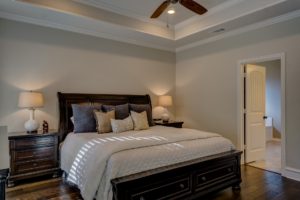 Small spaces can be hard to deal with at times. We would all love our homes to have spacious rooms for each member of our family but the reality doesn't always meet up with the dream. Financial strains can put a limit on how much room you can afford to buy and sometimes, that puts us in a position of having to make due with what we have.
Or, you could be fine financially and are downsizing because you feel that you don't need all that room, which just ends up getting filled up with more and more stuff. Maybe you have adopted the ideology of minimalism and you have settled into one of those great new "tiny houses" that are all the rage.
Whatever your reasoning might be, you have found yourself here at Uplifting Families, where we have found ways to take that small bedroom and maximize the space. To us, it seems like one giant craft project, which you know we love.
So let's see what we can do to turn that small space into a warm livable bedroom.
Use Mirrors
This has to be the oldest trick in the book. When you put mirrors on the walls, your bedroom will look twice as large. If you want to expand the effect, put mirrors on the opposite wall as well. You will be amazed at the illusionary space they will provide.
You can go all out and install full mirrors on both sides, or you can create a subtle effect by using a large mirror on one side with a few small ones on the other. This is where you can get creative with it. There are a few things you should take into consideration before installing mirrors.
They can be very heavy so make sure you walls can support the mirror you choose. If you would like large mirrors installed, it would be wise to consult a professional or do your research online. Also, mirrors fog in the humidity so you want to battle that from the beginning, especially if you live in a more tropical climate.
Other Problems With Humidity And A Tiny Space
Humidity can also make that small room feel smaller by adding stuffiness to a room that should be comfortable. On top of that, excessive humidity in a small space could up your chances of growing mold in your mattress. You can combat the humidity by simply adding a dehumidifier that would be great for a small bedroom. If you have allergies you will benefit from the reduction in humidity when you sleep as well.
Light Colors
When you are getting your small bedroom ready, try to stick with pale or light colors when painting the walls. You may think that means only white or off white but there are a myriad of pale colors available in a variety of hues. Pinks, light blues, light oranges, pale green, these are just a few of your selections.
Of course, the lighter you go the more you will feel that your room is bigger than it actually is. Dark colors overwhelm a small space when placed on the walls.
One Dark Color
This is where you can have fun with a great paint color. You may have chosen an egg shell white for your walls, which gives this small space the feel of a larger room. Take a look at the bedding you chose an pick a nice dark color from that to paint the ceiling. A deep red or dark blue would be fun.
If this room is intended for your child, you can do a dark sky ceiling with the glow-in-the-dark stars. This would be a great adventure for any child and would transform their small bedroom into a special little place in the universe when the lights are turned off.
Choose Your Furnishings Wisely
When you are choosing a bed, a dresser, or any other significant furnishing for this bedroom, consider a few things. There are a great deal of multifunctional furnishing on the market today, including headboards that serve as shelving units. Trunks are a great addition for extra storage and could also serve as a place to put up your feet or sit on when you are getting ready, opposed to messing up your bed.
Another trick is to get furniture that has legs. This is a great way to streamline the bedroom and give it an airy feeling. Just be sure to avoid storing anything underneath those furniture items, otherwise, you can start to get a cluttered look, which will only make the room feel smaller.
On To Window Treatments
If you must have shades or blinds, try to stick with something simple that blends into the colors on your walls. White walls, use white blinds or curtains. A heavy material or color on your windows can start to make you feel closed in.
Going without window treatments is a great way to make the room appear bigger. But in a bedroom, that is difficult to do because we dress in there and sunlight peers in first thing in the morning. So, it may be tempting to put those bulky blue drapes in the room to keep it dark when you are still sleeping, but try to find a happy medium.
Conclusion
Working with a small room is difficult but it is not impossible. The tips above should be able to get you started in the very least. Once you have been able to make a small space livable you start to feel like you can take on anything. And, as a parent, you most definitely can.