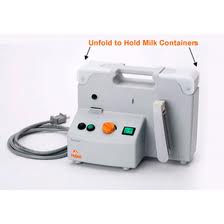 The Hygeia EnDeare was designed to be an economical breast pump for mother's who want a hospital grade breast pump.  The EnDeare is used in many hospitals all over the country.  This breast pump uses piston-driven technology, making it durable for frequent pumping sessions.  Hospital grade breast pumps are ideal for mother's who have a child that has been hospitalized for an extended period of time, such as a preemie, mother's who need to establish their milk supply, or frequent-long term pumping.  Hospital grade breast pumps are more durable and are made to withstand frequent pumping sessions.
Disclosure:  All opinions reflected in this post are my own.  I didn't receive any compensation for this post.
Lightest Hospital Grade Breast Pump
Most hospital grade breast pumps are heavier and aren't very portable.  However, the Hygeia EnDeare is the lightest hospital grade breast pump currently on the market.  It weighs roughly 9.5 pounds, compared to the Medela Symphony that weighs 13 pounds.
Hygeia EnDeare Is a Multi-User Breast Pump
All of the Hygeia breast pumps are listed as multi-user pump.  This gives mother's the option to share the breast pump safely and securely with family or friends.  Employers can also purchase this breast pump for their lactation room, giving mother's a way to pump breast milk without hauling a breast pump to work each day.  Each mother would still be responsible for purchasing their own personal accessory kit.  The personal accessory kit contains the breast flanges, tubing, storage bottles, and caps. These parts come into contact with breast milk and shouldn't be shared among mothers.