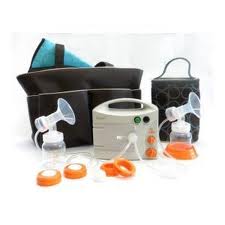 The Hygeia EnJoye LBI breast pump is an earth friendly breast pump.  This breast is the most expensive professional breast pump the Hygeia produces.  Not only is this breast pump registered as a multi-user pump but it has an internal rechargeable battery.  This is a great breast pump for mother's that are focused on going green and helping save the earth.
Disclosure:  I didn't receive compensation for this post. All opinions reflected in this post are my own. This post may contain affiliate links.
Tote Bag = Portability
Hygeia EnJoye LBI breast pump comes with a tote bag so that you can easily carry your breast pump and accessories discreetly.  The tote bag is black or brown with white trim and it resembles a diaper bag or large purse.  The bag makes your pump more portable and easy to carry compared to breast pump rentals.