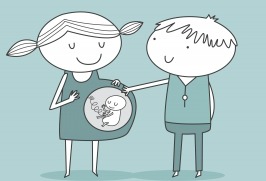 I remember the morning that I took the pregnancy test on September 26, 2010, just a few days after my husband's birthday.  The pregnancy test turned positive right away.  We had been trying for a long time to have a baby and we were finally blessed with the news that we were expecting.  At the time, the timing didn't seem perfect but things always have a way of working out.  My husband was so excited and he assured me not to worry about a thing.
Disclosure:  This post reflects my own opinions based upon my recent experience.  My opinions may differ from yours.
As soon as we found out that we were expecting, I called and scheduled an appointment to confirm the pregnancy.  My husband went with me to the OB/GYN, since it was the first time using this clinic and I didn't know what to expect.  I didn't want him to miss anything exciting.  Of course, the first appointment wasn't very exciting, the doctor just did the typical pregnancy lab work ups to confirm that I was in fact pregnant.
About two weeks later, we went back to the doctor together for our first sonogram.  Seeing our tiny, growing baby on the ultrasound screen was an amazing feeling.  According to the sonogram, I was 10 weeks along and the baby was growing beautifully.  I remember my husband grinning ear to ear with excitement and he couldn't wait to share the news with everyone that we were expecting. We wanted to wait until we heard the heartbeat to share the news that we were expecting with everyone.
Comments
comments