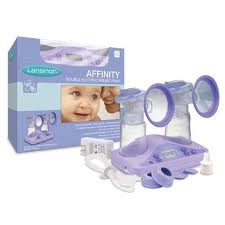 The Lansinoh Affinity double electric breast pump is a great breast pump for mom's who have a limited budget and on the go.  This breast pump offers mom's the ability to express breast milk from both breasts for reduced pumping time.  It also comes with the option of using an AC power adapter or the battery compartment that is located on the underside of the pump.
Disclosure:  The opinions reflected in this post are my own.  I was not compensated for this post. This post may contain affiliate links.
Like this review? Click on the photo for more information.
ComfortFit Cushion
Lansinoh's breast shields contains a special rubber ring around the edge.  This was designed to help ensure that there is a good seal around the breasts and to make pumping comfortable.  If there isn't a good seal around the breast, the breast pump will not function without the proper amount of suction.  The rubber ring is the ComfortFit Cushion that can only be found on the Lansinoh breast pump.
Closed System Motor
The Affinity pump has a patented closed system motor that prevents breast milk from entering the motor and tubing.  The design uses a specially designed diaphragm and diaphragm cap that prevents the milk from backing up into the tubing and motor.  This also helps prevent the spread of mold and bacteria growth.   The parts and accessories that come into contact with breast milk are easy to clean and the tubing requires no cleaning between uses.