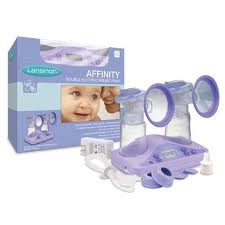 The
Lansinoh Affinity breast pump
is a great pump for mother's on a strict budget.  This breast pump can be compared to a high-quality hospital grade breast pump.  It is designed to pump more milk in less time. Mother's can use this breast pump either as a double or single electric breast pump, depending on your needs.  With 48 different combinations, 6 different cycles and 8 different suction levels, you can find a combination that is most comfortable for you.
Disclosure:  This post is for informational purposes only.  This post may contain affiliate links.
Identifying the Breast Parts and Accessories
1.  ComfortFit Flange – The ComfortFit flange is the funnel shaped piece that is trimmed in purple.  The purple trimmed ComfortFit ring can only be found on the Lansinoh breast pumps and it was designed to make pumping more comfortable.
2. Breast Flange Body – This is a plastic connector piece that the flange, diaphragm, and valve connect to.  Carefully slide the flange into the round connector piece that is on the side of the breast flange body.
3.  Diaphragm – Place the diaphragm on top of the breast flange body.  The diaphragm is a soft purple rubbery piece.  This piece protect breast milk from entering the tubing and motor.  Note: Make sure this piece is dry or the breast pump may not work properly.
4.  Diaphragm Cap – The diaphragm cap is a plastic cap that goes over the diaphragm.  Simply twist the cap over the diaphragm.  Make sure that the cap is twisted on securely.
5.  Valve – The valve is a small white piece that is similar to a duckbill.  Use cation when handling the valve because it can easily be damaged.
6.  Tubing – The tubing will connect your breast flanges and the motor together.  The tubing is inserted into the diaphragm cap and into the back side of the breast pump base.  To use as a single breast pump, simple unhook one tube and close the tubing with the tubing connector.  Note: Never wash your tubing.
7.  Storage Bottle – Twist the storage bottles on the the bottom of the Breast Flange Body.  The Lansinoh breast pump comes with 5 ounces bottles.
Comments
comments