During the week of September 4th – 11th, top models were walking the runway and modeling the top fall and winter fashion trends during the New York Fashion Week. I typically don't follow the fashion trends of the top models but my daughter enjoys looking at the new trends. She tries to incorporate the new trends into her typical daily routine. I was browsing some of the top fashion trends and it appears that black is one of the popular colors to wear this fall. I am thankful that I picked up a light weight sweater cardigan that I can wear this fall.
In honor of New York Fashion Week, I received a box of goodies from Pinchme. If you haven't heard about Pinchme, it is a great site where you can sign up and great samples of popular products before you buy them. I signed up for Pinchme sometime last year and have ordered several boxes of samples from them. One of my favorite items that I tried is the Max's Freeze, it is a muscle rub. I have arthritis and fibromyalgia so I need to have a muscle rub handy in my house for days when I need a bit of extra pain relief.
I have noticed that when their site became popular you had to act quickly in order to snag your samples.  So it has been a while since I have received any samples.  It is my fault because I forget to check on Tuesday mornings. I usually ended up signing onto their website a few days later only to find out that the samples were already gone. Of course, some of the manufactures have offered coupons so that you can at least try their products at a reduced price. I am a couponer so this is just as good as a sample in my opinion especially if I can find the product on sale and use my coupon to make it affordable.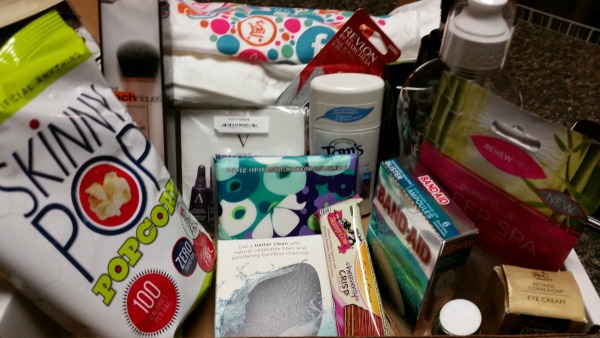 I got a ton of great goodies in my Pinchme box. Here is a list of items that I got:
Skinny Cow Raspberry Crisp Bar – Yummy!
ROC Retinol Correxion Eye Cream
Eco Sponge
Skinny Pop Popcorn
Kleenex Tissues
Bandaid Advanced Healing Blister
Toms Deodorant
Deep Spa Mask
Bobble Water Bottle
Revlon Nail File
Real Techniques make up brush by Sam & Nic Chapman
 Vbeaute Samples
Pinchme T-shirt
Have you tried Pinchme yet? If not, visit their website and sign up for an account. New samples are available every Tuesday at 10AM.
Comments
comments