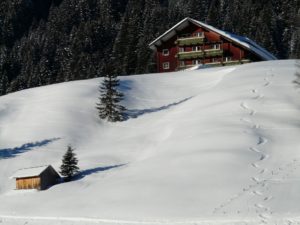 Luxury Retreats opens Your Door to Beauty
Some things just work naturally well together, and luxury resorts that promises to deliver scenic wonders is one. Travellers can't pick any one specific reason why holidaying in Canada has captivated holidaymakers worldwide. There are just too many and Luxury Retreats brings you interesting and scenic ski lodges which offer a getaway experience bar none.
There are many vacation rentals available all year round, and a Winter holiday can be just as riveting and exciting as a Summer holiday. Canada for instance is an awesome skiing destination, and charming log lodges in the best ski resorts can provide a wonderful alternative to the sun and riding the waves.
The discovery of magnificent ski lodges in the likes of Whistler and Mont Tremblant unveils a rich spectrum of irresistible delights, where you uncover a whole lot more.  Breathe in, and you'll get delightful whiffs of fresh snow, fresh mountain air, pine or even toasted nuts.
Luxury Retreats offers a wonderful selection of accommodation in places such as Canada but other places too that you've only dreamed of – Italy, Hawaii, Mexico, the Caribbean, California, Canada and many others.
A Unanimous Thumbs Up for the Greatest Retreats
As a full service villa rental company, you're going to be on the inside track of the greatest luxury retreats ever known to travellers. Made up of a team of experienced villa specialists, they find their discerning guests the perfect place to stay in as well as a 24/7 personal concierge service to assist with every detail.
They are designed to help you with stress free rentals and to offer you homes that live up to all your expectations. Their splendid portfolio of rental homes are available worldwide, and when it comes to sheer excellence in Canada, you'll find grand villas with every luxury on hand.
They also cater for every kind of traveller – adventurers, families with children, couples, singles and romantics wanting to wine and dine and who want a magical getaway experience.
Ski lodges in Canada have every comfort you can dream of –
●comfy bedrooms with flat screen TV's
●fully equipped  kitchens. Don't stress though, because if cooking isn't on your to-do list, you can
●hire a chef to cook up delicious offerings to tantalize your tastebuds.
●villas are boredom-free and there are DVD's and , high-speed Internet access
●indoor pools and outdoor pools
●home theater
●jacuzzis, hot tubs, gyms, steam rooms
●games rooms
●beautiful gardens for outdoor entertainment and much more.
Picture-Perfect Views
You can be sure that these villas are always well located in prime locations, close to all the things your family loves. Children are welcome at most of the villas and there is so much to do that kids usually rush off to play and leave adults in peace to do their own thing.
Flexibiity, space, privacy, luxury – it seems ridiculous not to investigate holiday home rentals.  Just imagine the sheer bliss of being able to visit Canada while staying in luxurious accommodation. Whatever your tastes, whether you want adventure and excitement, peace and tranquility or a romantic hideaway, there is a rental vacation house to offer you the experience you are wanting.
People with small kids particularly love the entire concept of a vacation house – love having laundry facilities with a washer and dryer – unlike a hotel where you have to pack in hordes of clothes so the kids are always presentable for the hotel dining room.
All villas have been vetted, and apart from the description and photos of their portfolio of vacation houses, they also give you a feel for the area by providing information on the attractions and amenities.You get exactly what you see and read about – no hidden and unpleasant surprises.
Destinations offering All You could Hope For
●Whistler ski resort in British Colombia, with both Whistler- and Blackcomb Mountains,  is looked upon as one of the hottest ski destinations in the world. It offers huge vertical drops, and also offers awesome ski diversity and a fantastic lift system. It's not just about skiing and there are endless off-slope activities too as shopping, day spas, skating, dining as well as alpine skiing events. Mont
●Mont Tremblant too in Quebec, Canada is an adventure wonderland for families, packed full of great activities for kids too. If you've got skiing on your mind, the best Tremblant slopes are perfect for beginners to experts as well as for snowboarders. If you want to have time on the slopes without the kids, the Kids' Club offers day care for tiny tots from ages 1 to 6 years. There is also the kid's adventure area on the Nansen trail. If you want to ensure your kids are having the time of their lives, you may even want to buy your kids an activity card which can be used daily and allow your kids to try out all the riveting activities.
Offering great deals with vacation rentals in Canada, guests get real value for their dollar. A villa offers freedom to come-and-go as you please, and allows you to see and experience so much more than what you would at a hotel.
Luxury Retreat offers an awesome collection of inspirational properties located wherever you fancy – in tranquil country settings, in snowy mountain regions, along the shores of beautiful lakes, on cliffs overlooking the ocean or in vibrant cities close to the hottest entertainment venues you can imagine.
Discerning travellers like to make use of them to specially benefit from their superior levels of personal services such as personal chefs, chauffeur services, butler services etc – all designed to enhance your holiday experience.
Excellent Accommodation – Great Times!
Your luxury getaway starts the moment you arrive at your awesome ski resort. Canadian ski lodges are all picturesque paradises, and once settled in, you can dive into a world of fun activities or simply inhale the fresh air and take it easy while Luxury Retreat tends to your every need.
By being in touch with a trusted rental team, you'll feel as though you are renting from an old friend, and that is the vey essence of superb vacation home rentals with Luxury Retreat. Why not contact them if you wish to enjoy stress free rentals with awesome deals and last minute specials, all guaranteed to ensure the time of your life.
Comments
comments