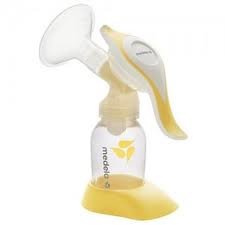 Breastfeeding is always a topic which causes quite a bit of debate. We all know about the many benefits of breastfeeding – it is the optimal nutrition for your baby, acting as a barrier against harmful bacteria. It also forms a strong connection between the mother and her baby. Breastfeeding isn't easy for every mom and its not always possible.
So what do you do when it's just isn't possible to always be available for every single breastfeeding session? How wonderful it would be if someone else could just feed your baby breast milk from a bottle. This is precisely why breast pumps have become so indispensable to mothers. Their biggest advantage is that a baby is able to benefit from its mother's breast milk when she isn't around.
The Medela Harmony manual breast pump is an easy to use manual breast pump that features Medela's two phase technology.  This breast pump is light weight and can easily be carried in your purse, diaper bag, or bag.  The Harmony doesn't require batteries or electricity to work, so mother's can use this breast pump anywhere.
It is an excellent option for Breast Pump under $50.
Disclosure:  The opinions reflected in this post are my own and I didn't receive any compensation for this post. This post may contain affiliate links.
Like this breast pump? Click on the photo for more information.
Medela Two-Phase Technology
The Harmony breast pump is designed so that it closely mimics the same sucking motions that your baby does when he or she is breastfeeding.  The two-phase technology describes the pumping patterns: simulation mode and expression mode.  Simulation mode is the faster sucking motion that a baby produces when he or she first latches on to the breast.  This stimulates your body's milk let down.  The expression mode is the slower, deeper sucking motion that a baby uses to express the milk after let down has occurred.  The Harmony uses both of these modes to allow mothers to pump milk quickly and painlessly.
Ergonomically Designed
The Medela Harmony breast pump was designed to make pumping easy and comfortable.  The pump features an ergonomically designed handle that easily fits into your hand, making pumping easier.  Also, the handle swivels which allows mother's the freedom to move the breast pump to a comfortable position.
Ease of Use
Medela Harmony manual breast pump is great for busy mothers on the go, this pump was designed so that moms don't have to waste time, patience, or struggle to express breast milk.  This breast pump doesn't have any complicated parts, making it easier to assemble and clean.  The pump also comes with a container stand that helps prevent mom's from spilling breast milk.
The Medela Harmony breast pump includes:
1 Softfit Breast Shield
1 Container Stand
2- 5 Ounce Bottles
2 – Lids
Breast Pump
Breastfeeding Information Guide
Instruction Manual
Which Moms are Attracted to Manual Breast Pumps?
Manual breast pumps are perfect for moms who love the no-fuss and quiet simplicity. They're the perfect answer for moms who don't want to spend a lot of money, and they're the ideal choice for those who only require the use of a breast pump now and then.
Let's look at what the Medela Harmony manual breast pump offers you –
This is an award-winning single manual breast pump designed for moms who don't need to pump a number of times throughout the day
● the Harmony has raked in many awards. It was the winner of the 'Best Manual Breast Pump' in 2008. Now it has been updated with a newer connector and valve and comes with one nipple shield and not two.
● what you get – a Harmony handle, Calma feeding device, Valve head and membrane and a Bottle stand. The Calma allows the baby to easily switch from the breast to the bottle. The Calma teat is designed to allow the baby to pause and breathe while feeding
● moms love that this breast pump is light and discreet – because its a manual pump, it doesn't require electricity or batteries to work, and it is discreetly silent. You can pop it into your handbag.
● with this manual pump, you can buy a conversion kit and turn this pump into an electric breast pump.
● easy and quick to assemble
● well designed and comfortable to use
● BPA-free product
● the pump is easy to take apart for cleaning
● the bottle stand will help to prevent spills
● the pump comes with an ergonomic twist handle
● features 2-phase Expression technology –  the only manual breast pump in the world to use this 2-Phase Expression. It mimics a baby's natural nursing rhythm, providing a combination of a quick stimulation and slower expression, ensuring comfortable, gentle pumping.
Customer Reviews:
Customers love the product, saying it delivers on its promises and is good value for money. Those who have used the product say they would gladly recommend it for anyone looking for a manual breast pump.
Star rating: average 4.2 stars out of 5
Pros:
● easy to use and highly portable
● no worrying about electricity supply or batteries
Cons:
● only made for minimal use
● looses suction after a while
Price:   Priced between $28 and $41.99 depending on where you buy it.
Warranty: Comes with a 30 day limited warranty.
Summing up, Medela has a huge range of breast feeding products for moms which are worth knowing about. The company knows that because new mothers are caring for- and nurturing the next generation, they've provided the best products there are. The Medela Manual Breast Pump is for the modern mom who wants to get on with life while still ensuring the best nutrition for her children.