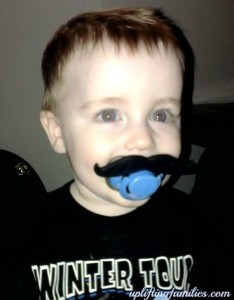 When I took my son to his 18 month old check up, my son was happily sucking on his pacifier when the doctor walked him.  She took it out of his mouth so that she could look into his mouth and he kept telling her that he wanted he wanted his "paci" back.  She told him that if he could ask for it, that he was too old for it.  In fact, she suggested a great way to help us wean him from his paci.  His doctor told me to only allow him to have his pacifier when he was sleeping.
Disclosure:  The opinions reflected in this post are my own and may differ from your opinions.
My son was pretty attached to his pacifier since he was a young baby.  I knew in my mind that I wanted to wean him from using the pacifier before he was two years old.  I just didn't know how I was going to go about doing it.  His daycare was attempting to help us wean him from his pacifier.  They would either take it away from him or ask him to stick it in his pants pocket.  However, at home he was super attached to his paci and wouldn't give it up.
Comments
comments