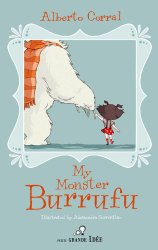 "My Monster Burrufu" for Free via kindle for 5 days (

April 14th 

through 

April 18th Only)
"
My Monster Burrufu" is written by Alberto Corral, a DreamWorks Animation artist, whose film credits include the "How to Train your Dragon", "Shrek", "Kung Fu Panda" and "Madagascar" sagas.
From the Back Cover…
Seven-year-old Olivia has just moved to a new house — the same house where a lonely monster named Burrufu lives hidden in a secret attic. One night, unable to resist the smell of delicious cookies, Burrufu sneaks out and is discovered by Olivia. The two soon learn that you can find friendship in the most unexpected places. 'My Monster Burrufu' is a story of overcoming fear, a curse, and a most unusual monster who learns from a little girl how to trust his heart.