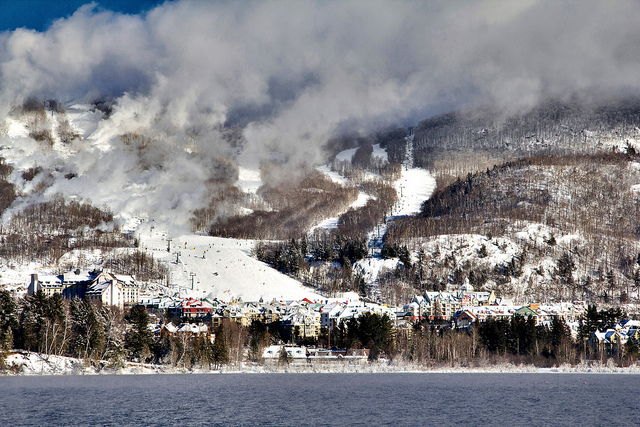 Mont Tremblant is among the world's most-popular ski and tourist destinations. There is never a bad time of year to visit and luxury hotels flourish in the area. However, due to all of the events and must-see locales, tourists are interested to learn about travel options.
If you're planning a trip and wonder how you'll be getting around once there, read the following information related to navigating one of the world's most beautiful ski villages.
Car Rentals
While car rental options are plenty, like any other time, you have to consider the pros and cons of renting a car. Price is usually a top priority, but aside from immediate costs, ask a vendor about insurance as well as additional charges related to gasoline, taxes, and drop-off rates. It's suggested to call at least three rental companies and choose the one that is most accommodating to your situation. For example, some rental companies may pick you up at the airport and charge no additional fees for taking you back there after your hotel stay.
Limousine Service
Most assume people are headed to Canada and staying at Mont Tremblant luxury rentals for pleasure only, yet the area hosts many business events. Consider renting a limousine for business associates and partners to make an extra special impression. Alternatively, some moms and dads spare no expense when it comes to taking their family on vacation; kids love riding in limos and cherish the one-of-a-kind experience. Check out a number of limo services in the Mont Tremblant area for courteous and swift transportation services to and from planned destinations.
Shuttle Service
Some families and groups opt to take advantage of Mont Tremblant's shuttle services rather than spend additional funds on renting a car or limousine service. And it makes sense considering the options and conveniences afforded by shuttle services in the area. Get familiar with shuttle pickup locations and dropoffs as well as rates and rules. For example, riding with pets and drinking alcohol is prohibited.
Bicycles
Mont Tremblant vendors offer a variety of ways to explore the area, providing sled, helicopter, buggy tours and more. Yet, bicycle rentals are available during both the winter and summer season. Bikes are available with aluminum and carbon frames. Additionally, rent a cycle with a baby carrier or backpack or choose between mountain bikes, hybrids, and more.
There are numbers of ways to get around Mont Tremblant. Ask your hotel for recommendations or conduct additional online research to find the best rates and accommodations to meet your needs.
In addition to securing transportation, pay attention to seasonal and immediate weather patterns to dress appropriately for chosen mode of transportation. For example, as mentioned, bike rentals are available in winter months, yet January and February can be extremely cold, so tourists may be surprised to find particular winter coats are not warm enough to avoid discomfort (or frostbite at worst). There are loads of activities awaiting you at Mont Tremblant, so be sure you make travel arrangements to make the most of your stay.
Photo Credit: Flickr via Creative Commons
About the Author
Margaret Bowers is a vacation and travel planner. She loves sharing her insights online. Look for her posts on many vacation and travel blogs.
Have you ever been to Mont Tremblant?
If you find this article helpful and useful, please share it with your family and friends. Sharing helps Uplifting Families grow. Thank you for visiting.