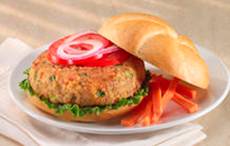 Are you looking for some healthier choices this summer? If so, try the Bolder Burger. This burger is packed with protein and is lower in fat than your traditional summer meals. Simply swap regular french fries for sweet potato fries or other side for an easy meal.
Summer is now in full swing and the typical hamburger and cheeseburger aren't cutting it anymore. How about trying something a little bolder for National Grilling Month? To help you celebrate, StarKist recommends the Bolder Burger; a tuna based burger bursting with a wonderful combination of spices.
Bolder Burger Ingredients:
2 pouches (2.6 oz) StarKist Tuna Creations®, Herb & Garlic
½ cup finely shredded Cheddar cheese
2 Tbsp. non-fat ranch salad dressing
2 Tbsp. egg substitute
2 – 3 green onions, sliced
1 Tbsp. Canola Oil
Directions:
Mix tuna, ¼ cup bread crumbs, cheese, dressing, egg substitute, and onion in a medium bowl. Mix well.
Form into two large patties (or 8 small ones); Place remaining ¼ cup bread crumbs on a plate. Coat each side of tuna patties with bread crumbs.
Heat oil in non-stick skillet over medium heat. Cook patties 3 – 5 minutes on each side until golden brown.
Enjoy!
In less than 20 minutes you'll have a photo ready meal, so fire up the barbeque and start grilling! Snap a photo with Charlie the Tuna or a StarKist product, or show off a Charlie-inspired style and submit on Facebook, Instagram or StarKist.com with #CharlieOnTheGo for a chance to win prizes (now until August 9th).
Disclosure: I am not a paid spokesperson for StarKist and I was not compensated for sharing this recipe.
Enter to Win Some Awesome Prizes Photo Contest
*NO PURCHASE NECESSARY. Open to legal residents of the 50 United States (D.C.), 18 years or older. Enter Sweepstakes by: 8/9/14. To enter and for Official Rules, including prize descriptions, visit StarKist® on Facebook and check out the Charlie on the Go tab. Void where prohibited. Sponsor: Starkist Co. 225 North Shore Drive, Suite 400, Pittsburgh, PA 15212.
Visit StarKist.com to learn more about the healthy, convenient and tasty Single Serve StarKist® Pouch products, and be sure to follow StarKist® on Twitter, Instagram, and Pinterest.
More About StarKist
StarKist Co. is a leading producer, distributor and marketer of shelf-stable seafood products in the United States. A category leader in innovation, StarKist® was the first brand to introduce the StarKist Flavor Fresh Pouch®; StarKist Tuna Creations®, a line of lightly seasoned tuna; and, a dolphin-safe policy. As America's favorite tuna, StarKist represents a tradition of quality, innovation and consumer trust and is well known for its charismatic brand icon, Charlie the Tuna®, who swam into the hearts of tuna fans in 1961 and is still a fan favorite today. StarKist Co. is a
subsidiary of the Dongwon Group.
Comments
comments