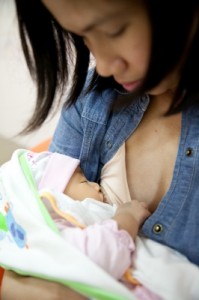 Breastfeeding was very important to me and even though I didn't do a bunch of research when I was pregnant with my first child, I knew that many professionals try to discourage moms from introducing artificial nipples or pacifiers to your breastfed baby for a minimum of 6 to 8 weeks to avoid nipple confusion.  If artificial nipples are introduced to early, you baby may end up preferring an artificial nipple and may refuse to breastfeed.  While, other babies have no problems with nipple confusion.  All babies are born with a natural instinct to nurse from the breast, in fact, if you place a newborn baby on the mother's tummy shortly after birth your baby will make their way to your breast. If you plan on breastfeeding your baby exclusively, it is up to you to determine what is best for your child and it is your choice to give your pacifier or bottle.
Disclosure:  The opinions reflected in this post are my own and may differ from your own.
Colostrum is the Only Thing that Your Baby Needs Until Your Milk Comes In
During the first few days, your baby only receives colostrum from your breast.  Colostrum is super thick, sticky substance that your body begins producing during the 3rd or 4th month of pregnancy as your body prepares to breastfeed your baby.  It is enough to sustain your baby until your milk comes in, generally, around 3-5 days after you give birth. Colostrum is packed full of nutrients, antibodies, carbohydrates, protein, and acts as a laxative for your newborn baby.  Avoid the temptation to give your baby formula, if at all possible.
Comments
comments