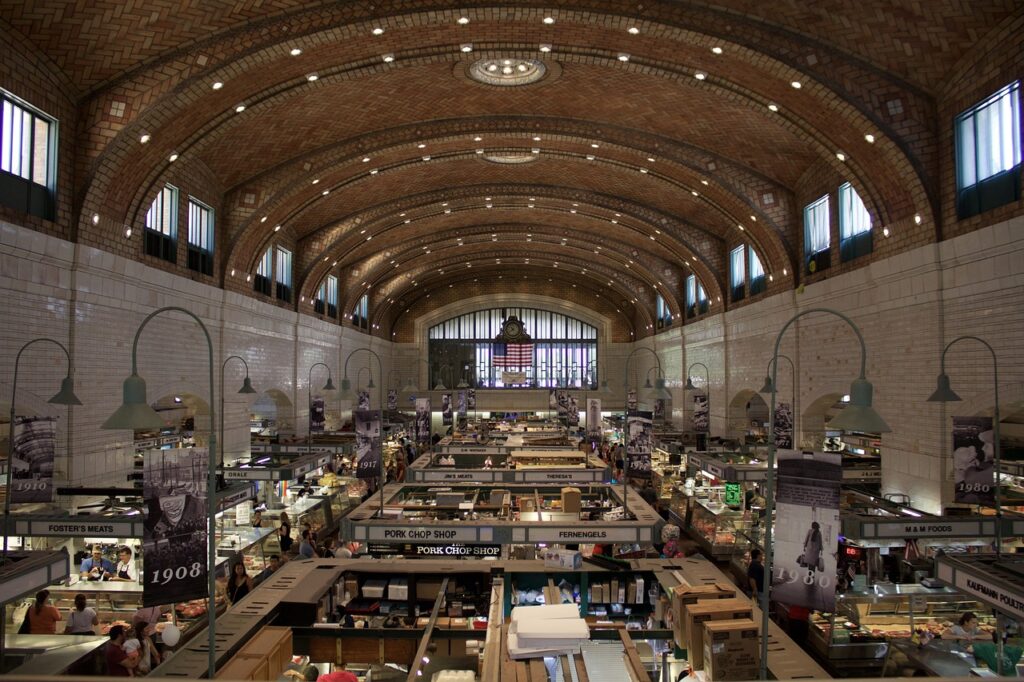 Are you ready to embark on a culinary adventure like no other? Ohio's vibrant markets are calling your name, offering an unforgettable experience that will tantalize your taste buds and leave you craving for more. From bustling farmer's markets bursting with fresh produce to lively flea markets packed with hidden treasures, this state has something for everyone.
So, grab your shopping bags and join us as we delve into the enchanting world of Ohio's markets, where delectable treats and unique finds await around every corner!
Introduction to Ohio's Markets
Ohio is home to a diverse range of markets, each with their own unique flavor and atmosphere. From the bustling downtowns of Cincinnati and Cleveland to the quaint small-town markets of Athens and Toledo, there's something for everyone to enjoy.
The state's farmers markets are particularly noteworthy, as they offer a chance to sample fresh, local produce and other goods. Ohio's farmers markets typically run from May through October, so be sure to check one out during your next visit!
The Benefits of Visiting a Market
The Ohio Valley is home to many vibrant markets, such as West Side Market, which offer a unique experience for visitors. Markets offer a great opportunity to interact with local residents, learn about the culture and history of the area, and sample some delicious food. Here are just a few of the benefits of visiting a market in Ohio:
1. Markets offer a unique shopping experience.
2. You can find locally made products that you can't find anywhere else.
3. Markets are a great way to support local businesses.
4. You can find fresh, locally grown produce at markets.
5. Markets are typically held in picturesque locations, making them a great place to explore and take photos.
Types of Markets in Ohio
There are many different types of markets in Ohio, each with its own unique atmosphere and offerings. From farmers markets to flea markets, there's something for everyone in Ohio. Here's a look at some of the different types of markets you can find in Ohio:
Farmers Markets: Farmers markets are a great place to buy fresh, local produce. You can often find a wide variety of fruits and vegetables, as well as other local products like honey and eggs.
Flea Markets: Flea markets are perfect for finding hidden treasures. You never know what you'll find at a flea market, so it's always worth checking out! You'll find everything from clothes to furniture to antiques at Ohio's flea markets.
Art Markets: Art lovers will enjoy browsing the offerings at an art market. These markets typically feature artists selling their wares, so you can find everything from paintings to pottery to jewelry.
No matter what type of market you're looking for, you're sure to find it in Ohio. So get out there and explore all that the Buckeye State has to offer!
What to Look for When Visiting a Market
When visiting a market, there are a few things you should keep an eye out for! First, take a look at the produce. The fresher the better! There should be a variety of fruits and vegetables to choose from, and they should all look vibrant and delicious.
Next, take a stroll through the market and see what other type of goods are being sold. You'll find everything from handmade jewelry to local honey to fresh baked bread. There should be something for everyone!
Make sure to talk to the vendors! They're usually more than happy to chat about their products and tell you their stories. This is part of what makes markets so special – the personal connection you can make with the people who are selling you their wares.
Examples of Local Products You Will Find at the Markets
There is an endless variety of locally produced products that you can find at Ohio's markets. Here are just a few examples:
Fresh produce: Enjoy the taste of fresh, local fruits and vegetables.
Baked goods: Get your fix of delicious home-baked pies, cookies, and breads.
Cheese and milk: Sample some of the best dairy products in the state.
Meat and poultry: Taste the difference with hormone-free and antibiotic-free meats.
Honey and maple syrup: Add some sweetness to your life with these all natural products.
Tips for Enjoying Your Trip to the Market
When visiting one of Ohio's many markets, there are a few things you can do to make the most of your experience.
First, take some time to explore the market and talk to the vendors. Many of them are passionate about their products and love to chat with customers. Second, be sure to sample some of the local food and drink offerings. The markets usually have a great selection of fresh produce, meats, cheeses, and baked goods, as well as wine and beer from local breweries and wineries.
Don't forget to pick up some souvenirs for friends and family back home. From handmade pottery to locally-sourced honey, there's something for everyone at Ohio's markets.
Conclusion
Exploring Ohio's vibrant markets is an experience unlike any other. From the delicious local cuisine to the unique gifts and souvenirs, you can find something special for everyone in your group. Whether you're looking for a place to pick up some fresh produce or want to find that perfect handmade gift, Ohio's markets will not disappoint!
With so much variety and an incredible atmosphere, we highly recommend adding a visit to one of these vibrant markets on your next trip to Ohio – you won't regret it!
Image: Pixabay