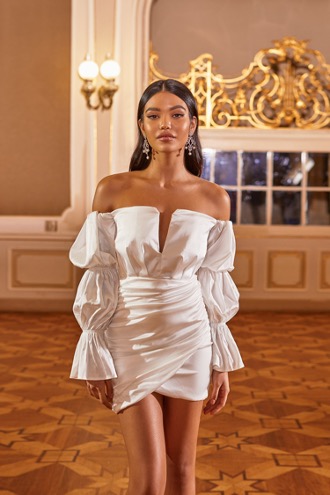 The mini dress is an undisputed wardrobe staple, a fashion favourite since the 60s. This chic little number really is an essential for any kind of dresser. Whether you're heading out to a glitzy formal affair, you've got a night out planned, you need an old faithful for a day time party or you just feel like switching up your off duty wardrobe, the mini dress has got your back time and time again. Mini dresses are all kinds of versatile, and it just takes a few tweaks here and there to totally transform your vibe. Here's a few outfit ideas to help you get the most out of your beautiful wardrobe essential.
Colour contrasts
A crisp, white mini dress is going to act as the perfect base for all your colourfully creative styling. Using a white mini dress as a base opens you up to a world of different accessorising opportunities. Choose dark brown and earth tones in shining resin or woven finishes to create a modern bohemian vibe that really brings out the beauty of your investment piece. Alternately, choose bold and bright beaded jewellery and a pair of red, hot pink or orange heels to blow your styling out of the water. This is totally on-trend but also, fun! Sometimes, it really is less about looking sophisticated and its more about enjoying yourself while you're both styling, and out and about at your special event. Lean into your childish side and use your classic mini dress as a canvas for your countless colourful curations, there's no way you're going to get bored. That piece is going to stick with you season in, and season out.
Creative layering
Hey, your mini dress can actually work for you in the colder months, too! All it takes a little tactful layering to take you from breezy summer looks to cosy autumn and winter vibes. Start with a pair of sheer black or brown tights and throw on your favourite pair of lived in leather boots to match. Next, add an oversized wool coat or a more casual oversized blazer, leather jacket or denim shirt and finish with a chunky knit scarf. Your perfect elevated off duty autumn outfit, in a few seconds flat – you're welcome! If you want to make this look work for a more formal event, try opting for knee high boots, a velvet wrap scarf, dark wine toned lipstick and an on-trend headband. It's moody, romantic and perfectly stylish.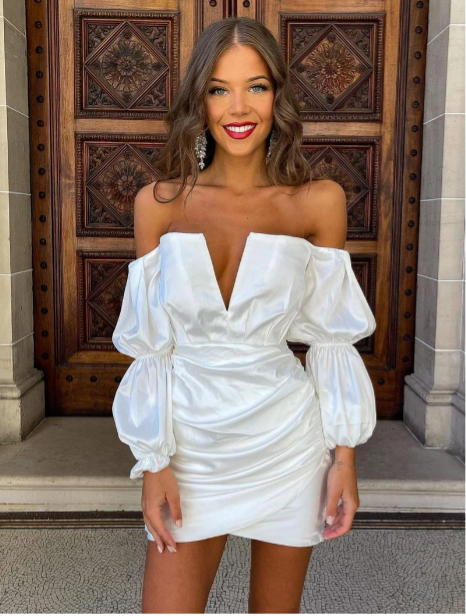 90s chic
For your dream 90s outfit, pop on a baby tee underneath your favourite strappy mini dress. Lilac, pink and yellow dresses with floral prints create the coolest contrast for a plain white tee, long or short sleeved – you're going to look amazing. Keep it casual with some suede finish platform sandals or turn up the drama with black knee high boots. Loving the layered looks? Go even bolder with an intricate long sleeve mesh top under a sparkling sequin mini paired with chunky heels or of the moment mules.
Bright and bold
Looking for a fun way to bring in some 80s energy? Turn up the drama with some neon shade tights to liven up your white mini dress, or opt for something more on the pastel side of things to ease into this trend. Look for sheer block coloured tights or hunt down a few delicate patterns to really up the creativity, whatever works best for your personal style. Make sure the rest of your shoes and accessories are nice and subtle to avoid overpowering your look.