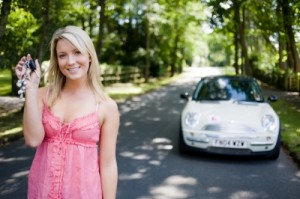 I can't believe that my daughter is old enough to get her drivers license already, it seems like yesterday that I was bringing her home from the hospital.  The time has flown by quickly and she is turning into a beautiful young lady.  My daughter was born with a bilateral hearing loss and wears a cochlear implant.  In fact, she turned 16 in December of 2012 and weren't quite ready for her to taking drivers education until a few weeks ago when she began asking if she could find a job.
Disclosure:  This post is for informational purposes only.  All opinions reflected in this post are my own and may differ from your own opinions.
Driving Will Give Her the Freedom to Get a Job in the Future
She has been wanting us to let her get a job this summer, so that she can earn some extra money to help pay for her band activities and spend money on things that she wants.  With her band schedule it would be difficult for her to maintain a job and keep up with her grades, right now if she found a job she would be dependent on us to take her to and from work each day.  A few weeks ago my husband asked her if she wanted to learn how to drive.  She eagerly jumped at the opportunity and said yes.
Comments
comments