I saw Rascal slipping out the back door last night when I went to bed.  I didn't hear him sneak back into the house during the middle of the night.  This morning when I came into the living room, I didn't see Rascal.  I  woke up the kids and asked them if they knew where Rascal was.  My son walked around the entire house looking for him.  Rascal was no were to be found this morning and I didn't think we were going to find him.  My oldest son decided that he would move on with his morning routine so that we wouldn't be late getting out the door.  While making his lunch for school, he opened the refrigerator door and much to his surprise he found Rascal.  The look on his face was priceless when he found Rascal sipping on Red Bull and eating M&M's.
My daughter told me that I should get him out of the refrigerator so that he didn't get cold.  I explained that he likes hiding in cold places because it was similar to the temperature at the North Pole.
Rascal found the Red Bull that was in the refrigerator.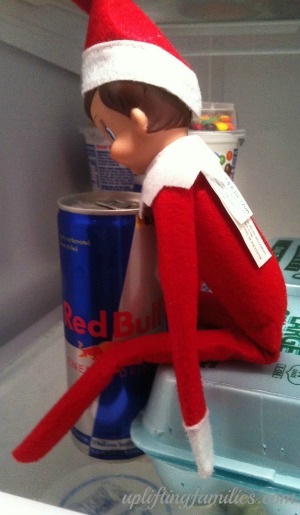 He is going to be a hyper Elf after drinking Red Bull.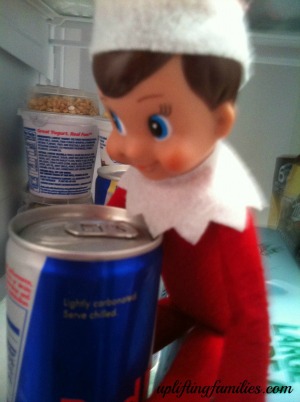 More Sugar…..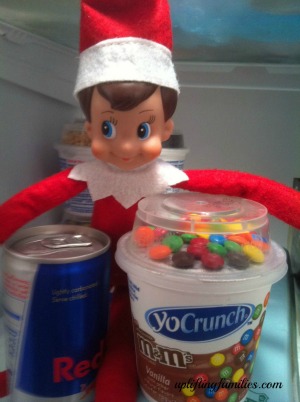 I found him munching on M&Ms this morning.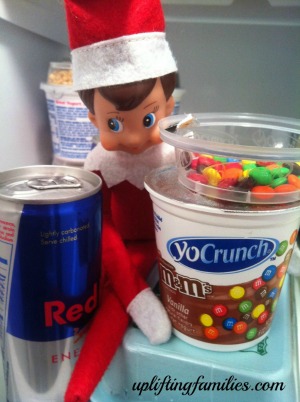 After all this sugar, I wonder what he will do tonight?  Check back tomorrow to see if he sugar crashes or if he is going to bounce off the walls.