I got a new phone a few weeks ago so I had to download all of my apps from the Google Play Store, I noticed a few of the icons looked different (the developer updated the program since I last downloaded it). I downloaded the React Mobile app last November and thankfully I haven't had to use it. However, if I was in a situation where I felt uncomfortable I could easily open my app and other people around me would have no clue that I was using my phone to alert my husband or other family members that I was potentially in a dangerous situation.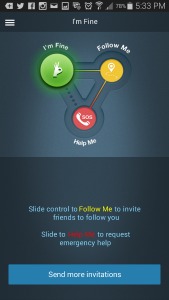 This app can be used when dialing 911 might not be feasible. If you have someone stalking you, the last thing you want to do is to talk loudly on the phone which can let them know that you are aware of their presences. Instead, you can use your phone as if you are changing your music selection, checking email, or fake that you are just looking at your phone. Simply open the react mobile app and ask your approved contacts to follow you or send out an SOS alert to notify the police.
The follow me feature is a great option if you enjoy walking, running, riding your bicycle, or even going to an area that might be dangerous especially at night. Simply log into the app and send a notification to your contacts. This will alert them with your details so that they can track your exact location. You do have to enable your location services for this app to work properly. Your cell phone has GPS and it can give your family or close friends your general location. Your friends and family can even check on your status. The app has three options for you to choose from: "I'm fine", "follow me", and "send SOS alert".
The SOS alert will send your contacts an alert letting them know that you are in trouble and need help. It will simply slide the follow me to SOS. It will pop up a screen letting you know that it will dial 911 in 10 seconds. You can choose to cancel calling 911. Once you send an SOS, it will send a text message to your contacts with current location. Plus it will send an email to your contacts and update your status on Facebook and Twitter.
React mobile is launching a new kickstarter program to raise $25,000 dollars to help launch their new product line, an independent wearable bluetooth device that you can wear on your body when you are going out. The device is called "The Sidekick" and it will be compatible with the react mobile app. In an emergency, simply click the Sidekick button and it will send out a panic alert to a wide network of trusted contacts. Simply click the React Sidekick button, and preselected friends and family will receive an emergency alert e-mail and text message letting them know where the user is and that they need help. Users can also choose to have Emergency Alerts posted on Facebook and Twitter.