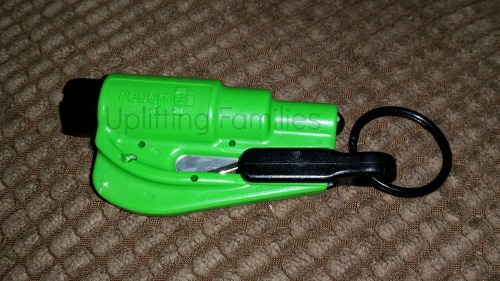 I received a ResQme key chain tool a few weeks ago in the mail and I hope that I never have to use it. It is a life saving tool that fits perfectly on your key ring. The tool is designed to cut through a seat belt and to break your window in the event of an emergency.
ResQme created this useful tool in 2003, shortly after the large hammer was released. The hammer was designed to break your car window in the event of an emergency but if you are like most motorist, it was probably shoved into the glove box or underneath the car seat. If you became entrapped in your car, finding the tool could be a challenge if it wasn't in a place where you could reach it. So they came up with a small, portable tool that can cut your seat belt and a spring loaded spike that is powerful enough to shatter your car window.
Disclosure: I received a ResQme tool for free so that I could facilitate this review. All opinions are 100% my own and I would never recommend products that I don't enjoy.
This tool was designed to help emergency personal make getting people out of trapped cars easier. But it can be used by any driver. An accident can happen in the matter of minutes and having this life saving tool can make a huge difference in the safety of your family when seconds count. Simply carry the tool on your key ring so that you have access to it in an emergency situation. If you are in an accident, all you have to do is pull the tool off the clip that covers the sharp blade. You don't have to worry about getting your keys out of the ignition when seconds count.
ResQme Features
Concealed Steel Blade
Spring-loaded Spike
Compact, Lightweight & Powerful
Made in the USA
Certified and Tested
Easily Accessible
8 Available Colors
Used by: Firefighters, Police Officers, Emergency Medical Personnel, First Responders and Government Organizations
ResQme™ is on ABC World News With Diane Sawyer
You can buy ResQme tool on [amazon_link id="B003ASQO8Q" target="_blank" rel="nofollow" ]Amazon[/amazon_link] or you can call ResQme at (805)568-0227 or email them at info@resqme.com.
The ResQme tool would make a perfect gift for emergency personal, someone who spends a ton of time driving in the car, or a great stocking stuffer.
Have you ever had to help someone out of a car after an accident?
Comments
comments