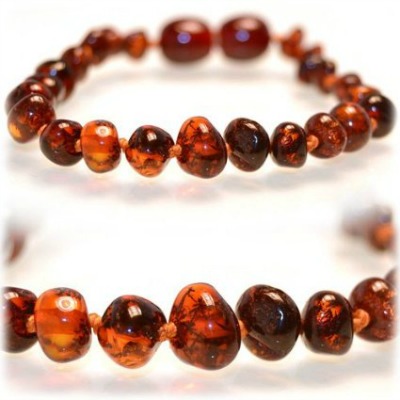 When your child starts teething, typically around 4 to 6 months of age, your baby will probably be pretty miserable until their teeth emerge from their gums. In fact, it can make your baby pretty grumpy and irritable. I remember going through this phase with all three of my own children and I found the frozen teething rings to be one of their favorite thing to chew on to soothe their swollen gums. As a mom, I always strive to do my best to to make my baby feel better and make their pain go away. Over the last few years, I have seen other parents buying their baby the amber teething necklaces in hopes of making their baby more comfortable. I wanted to research and share my opinion about Amber Teething Necklaces.  I haven't personally used the teething amber necklace on any of my kids, so I can't tell you how well it works or if it works at all. Of course, as a chronic pain suffer it has me curious if it really helps with pain.
Disclosure: This post is for information purposes only. If you have any question about the safety of using an baltic amber teething necklace or if you baby seems unconscionable, please contact your child's doctor or health care professional. This post contains affiliate links.
What is an Baltic Amber Teething Necklace?
It is a comfortable beaded necklace that is made from Amber. It is thought to have healing powers when it is worn while you are feeling pain or discomfort. According to Wikipedia, amber is known as a healing agent in folk medicine. The necklaces are made of Baltic Amber. Baltic amber is known for its anti-inflammatory and analgesic properties. If you don't want to give your child an excessive amount of medications or teething gels or tablets, this seems like a logical option to try on your baby. The necklace supposedly works by using your child's body heat to warm up the necklace and it emits small amounts of essentials oils. The oils are absorbed into the skin. I have heard some mom's comments on my Baby Center forum that swear that it helped remedy their child's teething symptoms.
comments