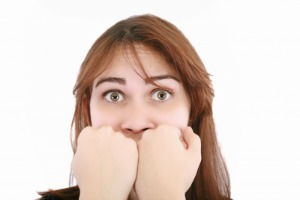 This week I was unable to find a partner for #ASKAWAYFriday, so I thought about doing something a bit different. I saw that a someone posted a question on last week's post with Beth from Structure in an Unstructured Life. Patricia left the question, what is the scariest part of being pregnant and I wanted to answer this question for her.
Typically, on Friday I particpate in #ASKAWAYFriday, if you are unfamiliar with this blog hop, it  is where you exchange a set of 10 questions for another blogger to answer. I decided to take one of my fan questions and I turned it into a blog post. I realize that this post ended up fairly long and I hope that I answered Patricia's question.
The Scariest Moments During My First Pregnancy
I remember finding out that I was pregnant with my oldest daughter at the time I was only 18 years old. I was scared and excited during my pregnancy with her. Due to gaps in insurance, I didn't receive the best prenatal care until I was around 18 to 20 weeks pregnant. I skipped all of the genetic testing (in fact I didn't have it done with any of my children). I remember one afternoon that I was at work and I started feeling weird. I got hot and started feeling dizzy. I remember calling my mom and my co-workers called my doctor. He suggested that I sit down and put my feet up. I remember going home and resting the rest of the evening. Thankfully, that scary episode passed. Then as I was nearing the end of my pregnancy, I was always scared that I wouldn't recognize the signs and symptoms of labor and that I would end up having my baby at home. Of course, my water ended up breaking just shy of midnight after we had spent some time out celebrating my mom's birthday and shopping. My mom had to come pick me up and take me to the hospital. I remember being in so much pain and I immediately asked for DRUGs. The nurse gave me some medications in my IV so that I could rest. Later that morning, the dr allowed me to have an epidural and I remember being pretty scared. After all, they are putting a huge needle into your back. Her labor went fairly quickly after I got my epidural and pitocin to speed things along. While pushing, I ended up having an episiotomy (its where they cut you so that you can delivery your baby easier). I had no clue that the doctor even cut me because I was numbed up. The episiotomy took forever to heal.
Continue Reading Comments
comments
Pages: 1 2