Christmas time is full of traditions and many families either continue a holiday tradition that has been passed on for generations.  While other families decide to create their own family traditions.  If you don't have a family tradition and would like to start a new one, I have a great deal for you just in time for your  Black Friday/Cyber Monday holiday shopping.  Order you entire family a set of new pajama's to wear on Christmas eve.  Typically, families open a gift box filled with new PJ's on Christmas eve so that everyone can go to bed with new pajamas.  Don't forget to watch a few Christmas movies like Polar Express, Home Alone, White Christmas, and other holiday classics before you go to bed.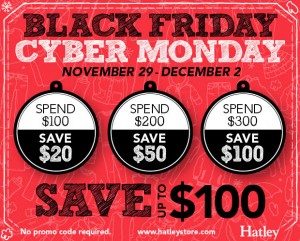 Are you looking for some great deals on Black Friday/ Cyber Monday?  Come check out Hatley's online deals November 29th to December 2nd.  They are offering great deals on pjs for the entire family, raincoats, cover alls for infants, gifts for men and women, Christmas ornaments, and a wide variety of gift ideas.
You will not need a promo code for the Black Friday/Cyber Monday sale, you just have to remember to visit their website and place your order.  The online deals are valid on November 29th through December 2nd.
Savings include:
Spend $100 – Save $20
Spend $200 – Save $50
Spend $300 – Save $100
The savings will automatically will be subtracted from your subtotal.  Hatley also offers free shipping on orders over $50.  Most companies today are making you spend more money before you qualify for free shipping.
Shop Hatley's Black Friday/Cyber Monday Sale November 29th – December 2nd
Don't forget to pick up those new matching family pajamas so that you can start your new holiday tradition for your family.  You don't want to miss out on the great photo opportunity of you and your family in matching pajamas.  While you are checking out the selection of family pajamas, don't forget to check out the gift section too.  They have humorous over mitts, aprons, sticky notes, and so much more.  Hurry this offer ends December 2nd.  So hurry over to Hatley's now and make your holiday list now.
To get weekly updates to Uplifting Families, please subscribe to my newsletter or join in the conversation with me on Twitter, Facebook, Pinterest, and G+.
Comments
comments