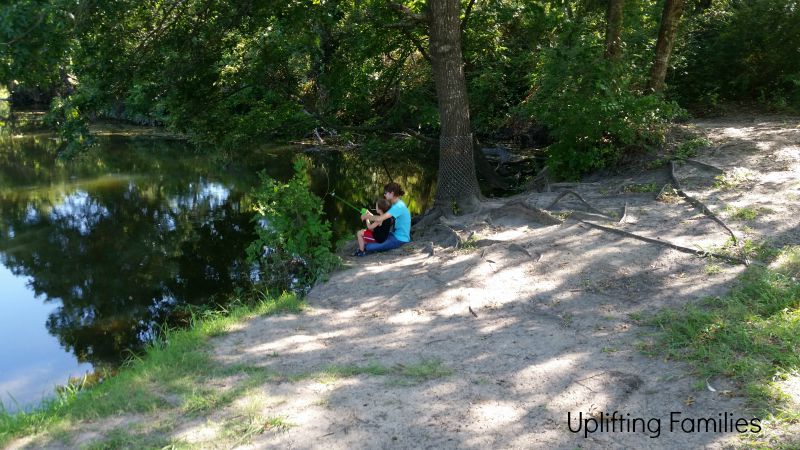 My boys have been wanting to go fishing for several weeks and yesterday I decided to take them to park so that they could throw their fishing poles into the pond. They have been looking forward to this day for the last week or so. I have always enjoyed fishing because it is one of those things that my daddy taught me how to do when I was younger. I wanted to pass this hobby along to my own kids. My daddy taught me how to fish when I was little, it was in Colorado in the Frying Pan River. These are memories that I hold onto dearly and I want my kids to have a similar experience.
When I lived in North Carolina, I used to take my kids fishing. We used to go to a off pier in Emerald Isle, North Carolina (it was my favorite place to fish). My kids still remember fishing to this day.  They saw me catch a stingray (which had barbs so you had to use caution when removing hooks) and several baby sharks. The stingrays were always tough to real into the pier and it usually required some help from a few of the other fishermen.
My oldest son went off to his grandparents last week and came home with a tackle box with some fishing gear. Then we went to Walmart so that he could buy two fishing poles with his own money that he has been saving up. My oldest son even took his brother in the backyard so that they could practice casting before our fishing trip.
Before you take your kids fishing, be sure to look up your local and state laws so that you know whether or not that you need a fishing license in order to fish. Fishing is a great way to teach your child new skills, you can enjoy spending some quality time with them, and make memories that they will remember forever. Of course, fishing has a few safety rules and I wanted to share some of the things that I did to prepare for our fishing trip.  It is very important that you follow these summer fishing safety tips to keep you and your children safe.
Sunscreen
Don't forget to put on the sunscreen even if it is cloudy. Sunscreen should be applied liberally and reapplied every few hours. It not only protects your skin from getting a painful sunburn but it also protects you from the sun's harmful rays, skin cancer, sun spots, and premature aging of the skin.
Wear a Wide Brim Hat
Wearing a hat helps prevent your head from getting sunburned especially if you have light hair. Plus a hat helps protect your face. A wide brim hat is the best because it offers more protection.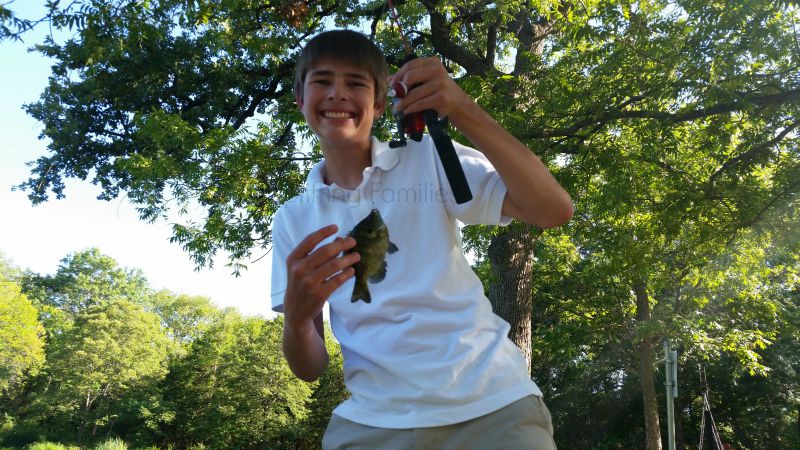 Wear Loose Fitting and Light Colored Clothing
During the summer months, you should always wear light colored clothing. Light colored clothing reflects light while dark colored clothing absorbs it. Wearing light colored clothing will help keep you cooler. Always choose clothes that are loose fitting because it allows the air to pass over your body and absorbs the sweat better. Also, make sure that you choose an appropriate fabric that breathes too.
Drink Plenty of Water
Make sure that you drink plenty of water especially if it is hot outside. When you are sweating, you are losing water so it is very important to replace those lost fluids to prevent dehydration. If you are thirsty, you are already on the verge of dehydration so it is important to drink fluids before you are thirsty. Don't forget to listen to your body. If you don't feel well, you need to get out of the heat and cool off.
Protect Little Ones from Knives
If you have a knife in your tackle box, make sure that you keep it away from your kids unless you have teenagers who know how to use it properly. The last thing that you want to do is your child accidentally cut themselves, especially if you don't have accident protection plan or health insurance.
Baby Wipes
Yesterday, I packed the baby wipes in our bag so that I could clean up messy hands. They came in handy yesterday because my older son caught two fish. If you have ever been fishing, you know that fish are a bit slimy and you have to handle them in order to get them off your hook. I don't like the idea of my kids sticking their hands in the lake water to rinse off their hands. Plus, baby wipes are great for cleaning up scrapes or cuts too.
First Aid Kit
If you don't have a first aid kit handy, you should invest in one to keep in the car or take with you on family outings. You never know when you are going to get snagged by a fish hook or fall down. Having a first aid kit will help you clean up your wounds and protect them from getting infected. Benedryl is also good medication to have in your first aid kit too. You can use it if your child gets stung by a bee or wasp or accidentally comes in contact with poison ivy.
Keep an Eye Out for Snakes or Other Critters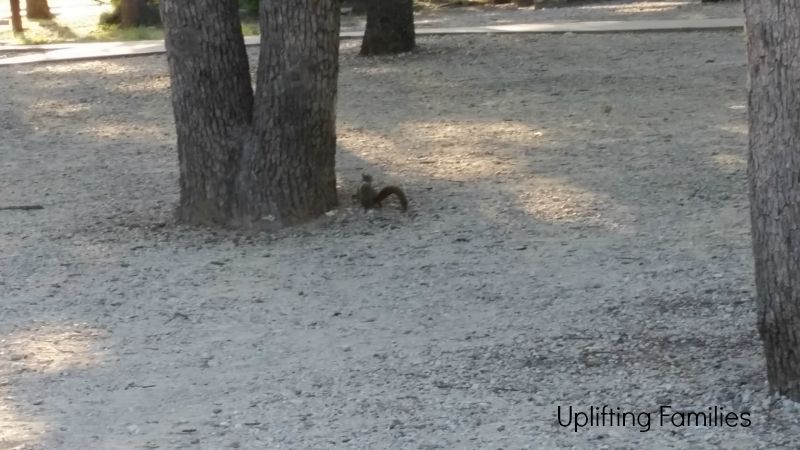 Yesterday, I saw a snake in the water when we were fishing. It made my heart kinda skip a beat because I wasn't able to tell what type of snake it was. Thankfully, it disappeared into the water and we didn't see it again. If you see a snake, it is best to just leave it alone even if it is non-poisonous.
I immediately got on Google to search for the different types of water snakes in Texas. I was trying to figure out what type of snake it was. With all the rain we had earlier this summer, the snakes were forced out of the normal hiding spots. I wanted to make sure that the snake wasn't poisonous but before I got out my phone, I told my kids to back away from the bank and to move fishing spots for a bit.
If it was poisonous, things could have gone downhill very quickly if one of us got bitten by the snake. Never try to kill the snake because it increases your chances of getting bitten. Most ambulances don't carry venom because it is very expensive, plus there are way too many species of snakes in most areas. Giving the wrong venom could be just as deadly as the bite itself. If you are bitten by a snake, you should call 911 and get medical care asap. You might have to carry the patient to safety if you are in the woods. In an emergency things can get sketchy but it is important to try to remember what the snake looked like so that you can tell the doctors. If possible, try to take a photo but never try to kill it.
In the wild, it is possible that you will run into things like snakes, raccoons, squirrels, chipmunks, and plenty of other animals. It is always best to leave them alone so that you don't get bitten. A bite from any wildlife animal can be potentially dangerous because you never know if they are carrying diseases.
Teach Your Children Not to Run Near the Lake or River
If you are out fishing, it is very important that you teach your child not to run near the lake or river. The last thing that you want them to do is to trip and fall and hurt themselves or fall into the water. Most of the time the banks the ground is often uneven and your child could easily trip, turn an ankle, ect
Keep a Charge on Your Cellphone at all Times
Always carry a cell phone with you so that you can contact 911 in the event of an emergency. I grabbed my portable charger yesterday because I wanted to make sure that I had a charge on my phone at all times. The portable cellphone charger has the ability to charge my phone anytime, anywhere.
Accident Protection Insurance
If you don't currently have an accident protection insurance policy, I highly recommend that you get one to help protect your family against unplanned accidents.  According to the Centers for Disease Control, more than 2.6 million children 0-19 years old are treated in the emergency department each year for sports and recreation-related injuries (http://www.cdc.gov/safechild/Sports_Injuries/index.html) When unexpected injuries happen Aflac supplment insurance policy can help make sure you're prepared. For example, Aflac's accident policy can help cover out-of-pocket expenses such as insurance deductibles and time off work.
Even the most minor of accidents, such as a broken arm, can lead to an inability to pay normal living expenses.
Getting Claims Paid Quickly Matters
A lot of insurance companies talk about how much money they'll save policyholders on premiums, but people buy insurance to get paid when they need to file a claim. Aflac understands the urgency and importance of being there when it matters most.
Submitting health insurance claims isn't something people necessarily look forward to doing – with claim denials and waiting up to a month for payment, it can be a long and difficult process. And while 30 days may not seem like a long time, for families struggling to pay medical expenses, it can feel like a lifetime.
Therefore, Aflac recently introduced One Day PaySM – an initiative that allows Aflac to process, approve and pay eligible claims in just a day.
Active Families Should Consider Learning More About Accident Insurance
Aflac's accident insurance is offered through a direct basis and through company benefits programs.
While families usually cannot purchase accident insurance until their company offers open enrollment each fall, it is important to understand what accident insurance is and how it can help keep your family's finances protected prior to selecting next year's benefits.

Accident insurance helps families stay ahead of the medical and out-of-pocket expenses that add up quickly after an injury, so they can focus on recovery – not finances.
Cash benefits can be used to help cover emergency treatment, hospital stays and medical exams but also for other expenses families may face, such as transportation costs, lodging needs and daily living expenses like groceries or monthly bills.
Accident insurance may be particularly important to families who generally do not meet their major medical deductibles since benefits can be used to help pay out-of-pocket medical costs, including deductibles and copayments.
Aflac will be introducing a new accident plan that includes a benefit for injuries sustained while playing an organized sport. This summer, in advance of open enrollment, take some time to look at what insurance is offered by your employer to be sure you have the right coverage for your family.
BY THE NUMBERS
More than 19 million injuries occur at home in a year¹.
Each year, 2.6 million children visit emergency rooms for sports-related injuries².
One out of 8 Americans seek medical attention for injuries¹.
The average expense of an individual injury is $5,500¹.
Without health insurance, the average cost to treat a broken leg is over $10,000³.
1 National Safety Council estimates (rounded) (2012) based on data from the National Center for Health Statistics (NCHS), state departments of health, and state traffic authorities.
2 CDC: Protect the Ones You Love (2012). accessed June 29, 2015, from http://www.cdc.gov/safechild/Sports_Injuries/index.html
3US National Library of Medicine, National Institutes of Health. The direct and indirect costs of long bone fractures in a working age US population. Bonafede M, Espindle D, Bower AG http://www.ncbi.nlm.nih.gov/pubmed/23035626 Date accessed: Nov. 24, 2014
If your family isn't protected, you should consider looking into a supplemental insurance policy especially if you have accident prone children. An accident can occur at any time or any place and it could leave your family in a financial bind. I personally deal with chronic pain and I know first hand, how quickly medical care can easily eat into your budget especially for if you aren't prepared for it. With the rising cost of health care and insurance companies forcing family to pay higher deductibles, co-pays, and even premiums an accident could easily cost several thousand dollars or more in medical costs alone. This figure doesn't include time lost especially if you don't have enough leave on the books. For a long term health problem, you are allowed to take leave under FMLA but you aren't guaranteed that you will be covered financially especially if you don't have enough vacation or sick time on the books.
Have you taken your children fishing? If so, do you follow these safety tips.
If you find this article helpful and useful, please share it with your family and friends. Sharing helps Uplifting Families grow. Thank you for visiting.
I was selected for this opportunity as a member of Clever Girls and the content and opinions expressed here are all my own.
Comments
comments