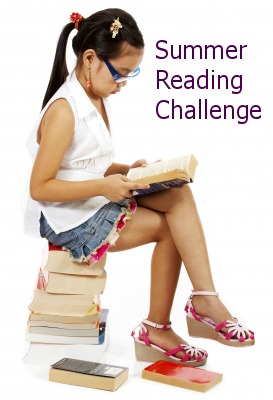 This summer I wanted to try something new with my kids. In the past, I have let my kids spend a ton of time watching television or playing video games. So before they were out of school, I picked up a summer reading schedule from our local library and planned on taking all three kids to the library over the summer. Not only is it free, it is beneficial for them to continue reading over the summer months. Our local library kicked off their summer event a few weeks ago and have been hosting activities that are related to science and math. Each time a child reads a book they get to build a "PI" chain around the library that represents "PI" aka 3.14 followed by a ton of number. If your local library doesn't have a summer reading program, don't worry I plan on sharing some ways to get your kids reading books and will provide a reading log.
Why Is Summer Reading Program Beneficial for Your Children?
Did you know that students who spend time playing video games, going swimming, and watching television without picking up books often lose up to two to three months of reading and comprehension skills if they aren't engaged in educational activities over the summer? You can change this by challenging your kids to read a few books a week over the summer time. Learn the benefits of getting your kids involved in a summer reading program.
Your are encouraging your children to become life long readers.
If your child isn't interested in reading, if you are participating in a fun summer program the kids will be motivated to pick up books after they participate in the daily activities at the library or in your home.
If you give your children the opportunity to materials they are more likely to participate.
Reduces the amount of screen time that your child spends hours doing over the summer.
The fun activities also keep the brain stimulated and kids enjoy learning when it is fun.
Enhances your child's critical thinking skills, imagination, and creativity.
6 Free Resources to Get Your Child Involved in Summer Reading Program
I know that working parents don't always have the time to take their children to daily activities at their local library but don't worry this shouldn't stop you from getting your children involved in a summer reading program. Today I wanted to share with you some free or inexpensive ways to get your kids reading over the summer.
Library
Check out what your local library has to offer for your children. Not only can you check out books but most libraries even have movies, resources for learning other languages, defensive driving, audiobooks, and so much more. The library is funded by your tax dollars and you should use it as much as possible. All of their events and programs are free too. If you are checking out books for the very first time, they may limit the number of books that you can check out but after that you can usually borrow enough books for all of your children each week. If you like reading digital books, you can even check out and borrow e-books from your local library.
Free E-books
If your child has a tablet that they can use on a regular basis, you can download The Nook and The Kindle app so that they have access to 100s of free books. Simply launch the app and search for free children's books. As a tech savvy mom, I added a password to my daughter's account so that she couldn't download books without my permission even if they are free. I wanted to be in control and make sure that she wasn't reading books that aren't age appropriate for her. You will have to add a credit card to your child's account in order to download the free books, but if you add the password during purchase your child won't be able to download new books on their account and rack up tons of charges on your credit card. If you don't want your card on their account, simply buy a pre-paid visa card and add a set limit for them to use to purchase books.
Start a Book Swap in Your Neighborhood
If you have a bunch of kids in your neighbor, chances are they have some books that are lying around the house that are collecting dust. You can connect with your neighbors via email or create a Facebook group. Then have each parent add a list of books that they have in their house that they are willing to lend out. As you have a list, get your kids to find some new books on the list to read and borrow them from your neighbor. Make sure that you return them to the neighbor or keep a box full of books at a designated person's house so that everyone can have access to the book after your child is finished reading.
Take Your Old Books to the Used Book Store
Have your child gather up all of their old books that they no longer want and take them to the used book store. This is a great way to recycle your old books that are collecting dust and the money that you make off your used books. Then once you get the money for your old books, pick out a few new ones to read. Keep trading your old books in for new ones as you read them.
Download FarFaria App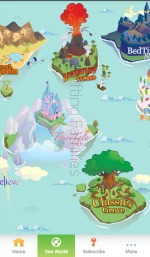 This app is free for you to download and you have the option to purchase a small monthly subscription to their service. This app currently has over 600 children's books for your children to choose from and each week 5 new books are added to their app. It was created for children ages 2 to 9 years old so that they have their own resource to choose books that are age appropriate and you don't have to worry about them accidentally reading books that aren't suited for their little eyes. They created an interactive experience so that it is fun and easy for children and parents to use. Your child even has the option of having the books read aloud to them which is beneficial too. You can quickly see what age each book is rated for by looking for the badge on the front cover of the book. Your child can even download their favorite book so that they can read it on the go or when they don't have an Internet connection on their device. You can read one story every day to your child without paying for their service. If you decided to read more than one book every day, simply enroll for $3.99 a month to gain access to all the books every day. This app also has the capabilities of reading to your child. Learn more about FarFaria here.
Disclosure: I received a free copy of this app to facilitate this review. I wouldn't recommend any products that I would personally use. All opinions are 100% my own.
Audiobooks or Read Along Books
If your child isn't interested in reading book, find some free or cheap audiobooks for your children to listen too. Even if your child isn't reading, they are still gaining valuable skills that are needed for language development by listening to books. The great thing about audiobooks, they get them away from the television and as they are listening to the story they can easily imgine what is going on in their mind. They are able to paint a picture in their head of what each character looks like and what they are doing in the story. It is a great way to enhance their imagination and make them think outside of the box. I remember listening to stories on a tape player when I was growing up and following along with the book. You can still find these sets in stores or you can find read along books for free online.
Download your Summer Reading Log for Free.
Do your children read for at least 20 minutes on a daily basis in the summer time?
If you find this article helpful and useful, please share it with your family and friends. Sharing helps Uplifting Families grow. Thank you for visiting.