Children love learning and books are a great way to help your child learn new concepts.  The Tacky Box set comes with a book called Margo or Max's Magnificent Choice, The Tacky Box, notepad for writing unwanted words or behaviors, and a guide to help you.  The story gives your child real life examples and teaches your child how to recognize tacky words and behaviors.  Once you have finished reading the book and have had a chance to discuss it with them, you should have them decorate their very own Tacky Box.  I was disappointed that the package didn't come with markers or stickers to help my kids decorate the box.
Once your child is finished decorating The Tacky Box, take out the notepad and have them come up with a few tacky words or behaviors.  Then have your child write those ideas on the notepad and then put it into the Tacky Box.  After they have finished adding a few tacky words or behaviors, have your child close the box and lock these words and behaviors away.  The goal of the Tacky Box is to make your children self aware of the words that they choose to say and how their behavior affects others around them.  As your child learns self awareness, you will start to notice that your child will stop using those hurtful tacky words or modify their behavior.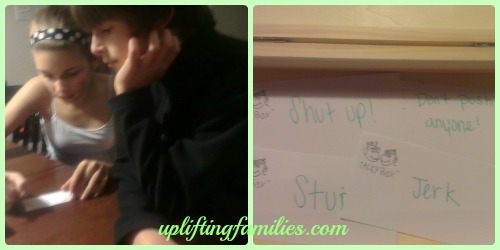 I love the idea of the Tacky Box and hope that they come out with a series of books to help parents reinforce modifying a child's behavior. Most people will engage their children in this project once or twice  and then it will be put to the side.  If the Tacky Box is pushed to the side and children forget it, then you haven't reinforced the original unwanted behavior.  In order to modify your child's behavior, you have to constantly remind them and reinforce the things that you taught them in order for it to stick over a long period of time.
For more information about the Tacky Box, please visit their website.  You can also find Tacky box on Twitter, Facebook, Pinterest, and G+.
Here is a personal message from the creators of The Tacky Box:
"Everyone working on the project is doing so for the Campaign for Kindness (see Tackybox.com).  We are on a mission to create a nationwide ripple effect. It is our intention to arm every 3-8 year old with his or her own Tacky Box Set to use at home. We're also partnering with educators to create a curriculum to roll out the concept in schools, and we will put our money where our mouth is and discount our product to make it happen. We believe it is our collective obligation to spread the message of kindness to every single child, before the words and actions of others make their mark, and we hope you will help us!"
Like these products?  Click the photo for more information.
Has your child said a bad word or say something hurtful to someone else?  How did you handle the situation?
Comments
comments