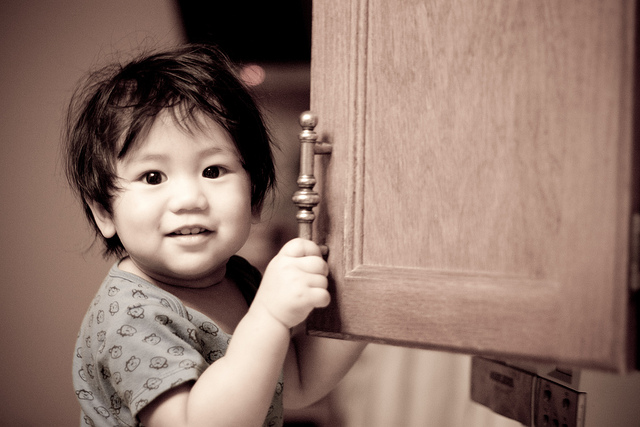 As you've baby-proofed and child-proofed your home, you've likely already covered the electrical sockets with plastic caps and installed child-safety locks on cabinet doors. However, it's the hazards you don't see until it's too late that can be very dangerous for young children.
Be on the look out for these top ten hidden hazards in your home so you can fully protect your growing baby.
Magnets
Small powerful magnets, if swallowed. If two or more are swallowed, they can attract one another inside the body. This can block, twist or tear the intestines. Keep toys and games with magnets away from children of any age. Check regularly for loose magnets and stop using any recalled products.
Button Batteries
Your curious child may try to remove those tiny, round lithium button batteries from musical books, toys and stuffed animals. These little batteries are a choking hazard and can cause chemical burns to the esophagus and stomach. Learn which items in your home contain these batteries an check them to make sure the compartment is secure. Dispose of dead button batteries immediately, as they can still be dangerous.
Windows
Open windows look exciting to curious toddlers and kids. Opening the window is exceptionally dangerous if it's on an upper level of a home or apartment. Install window guards to prevent windows from opening wide enough for a child to slip out. Keep cribs, play yards and beds away from windows. Use cordless blinds or get safety devices to cover the cords.
Caladium Houseplant
Most houseplants are safe and even help clean the air. There is one plant that's particularly harmful if ingested, which is the colorful caladium plant. It's toxic to both children and animals. The dirt, leaves, decorative rocks and other parts of a plant can be choking hazards, so consider keeping plants up high or consider removing them from your home.
Table Runners
One yank of a table runner and all the plates, dishes, knives and glasses could come crashing onto your child's beautiful head. Remove tablecloths, runners and placemats or keep the table clear of heavy and fragile items.
Electricity
Electrical appliances, outlets and cords don't mix well with young children. Use furniture to keep cords and outlets out of your child's reach. Use full-plate outlet covers. Check cords regularly and stop using anything with frays, cracks or worn spots.
Cleaning Products
The most common household cleaning supplies are poisonous. Keep these supplies on high shelves or in locked cabinets. Check the garage, bathroom, kitchen, hall closet and anywhere else these supplies might be discovered by a little one. Even natural cleaners such as ammonia, hydrogen peroxide and baking soda can cause harm to your child if inhaled or ingested.


Detergent Pods
Those new, convenient individual-wash detergent pods are one of the most dangerous items in the laundry room. They look like candy with their bright colors and fun shapes, but they're highly toxic and present a choking hazard.
Unstable Furniture
Kids move quickly and can easily climb on top of a dresser or bookcase. The weight of the child may cause the furniture to fall onto the child, with devastating results. To avoid this, solidly secure shelves, bookcases and chests of drawers to the wall by using anchors, bolts or brackets. Anchor large TVs to the wall or the TV stand. Free standing ranges, refrigerators and stoves should be installed with anti-tip brackets.
Pools Drains
Suction from an in-ground or above-ground pool or spa drain can be powerful enough to trap a child or adult underwater. Check for broken drain covers and have regular inspections done by a qualified pool and spa safety inspector. Make sure the drain covers on your pool meet federal safety standards. Keep kids away from the pool's plumbing, including the pipes, inlet and outlet drains.
You and anyone who spends time with your child should be aware of these hidden dangers. It only takes a few moments to look for and remove these hidden dangers from the home. Put yourself into your child's position and examine your home from top to bottom to discover where the hazards could be. Investing a little time now could prevent a catastrophe from occurring in the future.
About the Author
Patricia Dimick is a wife, mom, advocate to her kid, writer, passionate coffee drinker, table tennis player, big fan of nature and DIY jobs. You can reach her @patricia_dimick.
Attached Photo: Image credit to Jed De La Cruz on Flickr
Do you have any additional items that you had to baby proof that aren't normal things that you would have to hide or put up from your baby?
If you find this article helpful and useful, please share it with your family and friends. Sharing helps Uplifting Families grow. Thank you for visiting.
Comments
comments