It has been several years since we have gone on a family vacation. I have always wanted to visit another country with my family. Today, I was browsing the Internet and found some beautiful destinations to visit on the island of Madeira. It is a small island off the coast of Portugal and is located in the North Atlantic Ocean. It has become a popular year round resort and even though the island is roughly 309 square miles there is plenty of things for your family to do.
Don't let the size of the island fool you, there are plenty of options for your family to enjoy. You can find plenty of leisure activities such as sailing, fishing, whale and dolphin spotting, water skiing, surfing, diving, plenty of places to go swimming, shopping, dinner shows, casinos, a variety of nightlife to choose from, theme parks, nature tours, hiking, balloon rides, horseback riding, and so much more.
Depending on the time of year that you travel to Madeira, the water temperature ranges from 68°F to 75°F. The average temperature in Madeira ranges from 66°F to 78°F, so you can travel anytime during the year and the temperatures are perfect.
As I was browsing for things to do in Madeira, I wanted to share with you the top 6 places that I would love to visit while vacationing in Madeira. Don't forget to book your trip to Madeira by Saga Travel today!
Visit the Bordado Workshop in Funchal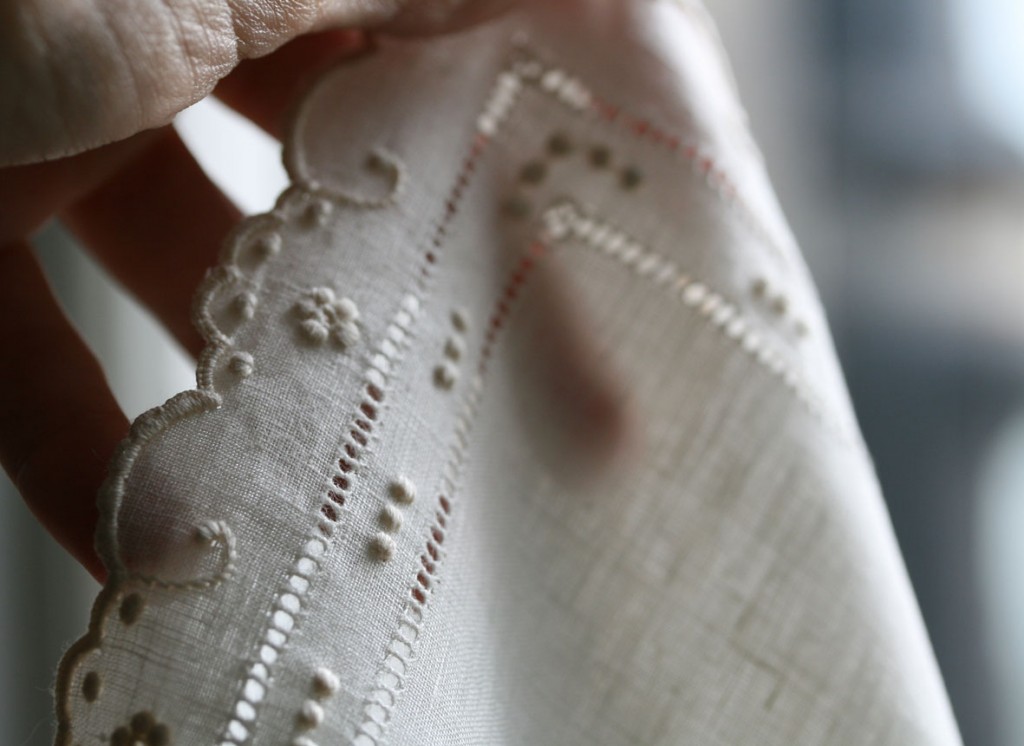 Photo Credit: LifesMaze
The Bordado workshop is one of the top producers of embroidery. They offer a historical tour of the factory and even offer an embroidery workshop on Thursday's (limited space available). The embroidery workshop teaches the different steps and stitches that make typical Madeiran embroidery pieces in the factory. They do charge a nominal fee for the workshop and you will be provided a small handkerchief to take home with you.
The factory has recently undergone major renovations but they kept photos of the old factory and preserved its 150 years of history. Everything that is made in this factory is handmade and it is high-quality embroidery.
Wander the Streets of Camara de Lobos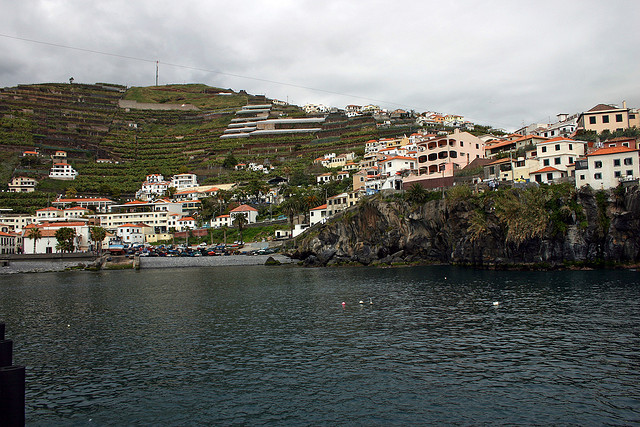 Photo Credit: Flickr
Camara de Lobos is a traditional fishing village where Winston Churchill would visit to paint. It is supposedly one of the best locations on the island to eat especially if you enjoy fresh fish. You will also be captivated by its exquisite landscapes and beauty surrounding the city. There are plenty of restaurants to choose from that offer a family friendly atmosphere. You can find popular items on their menu that include: Espada (black-scabbard fish), Atum (tuna), Madeiran Espetada (meat-on-a-stick), or Frango Assado. 
Visit Cabo Girao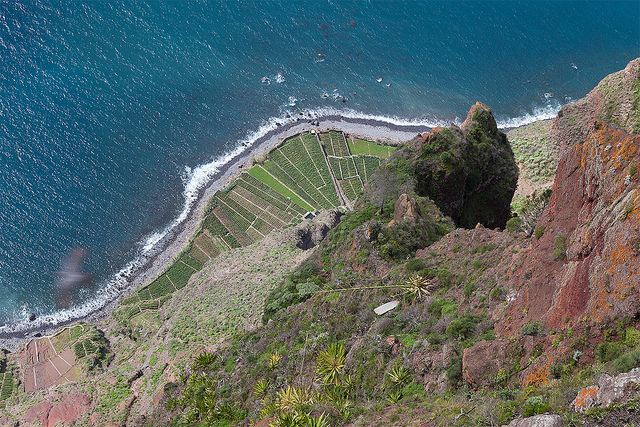 Photo Credit: Flickr
You don't want to pass up this popular attraction. Cabo Girao is the second largest cliff in the world and features a glass bottom floor that you can step out on. There is no fee to venture out on the glass bottom floor over looking the huge cliff and it is always open. Many tourist report that they are nauseated while they are on the glass bottom floor. The site also offers a cable car that takes you down the side of the cliff  to the Fajas de Cabo Girao terraced fields.  The cable car isn't free but it is worth paying the nominal fee to see the vineyards. The vineyards were once accessible by boat only before the cable car system was added. If you are lucky you might even see the whales as they come up to feed in this nutrient rich area.
Catch the Best Waves at Jardim do Mar or Faja da Areia Beach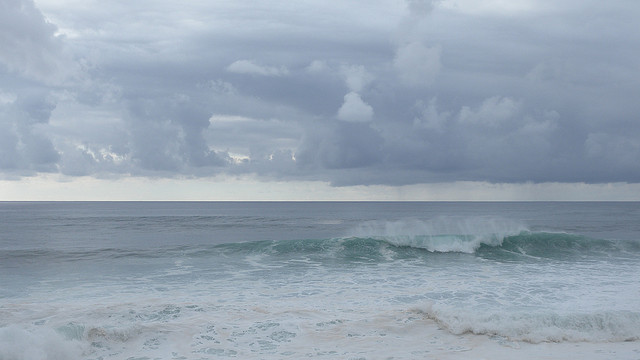 Photo Credit: Flickr
These are two of the most popular beaches to catch some great waves in Madeira. Many people often schedule windsurfing lessons or go sailing. If you don't know how to surf, it is best that you take someone with you who can show you.
Plan a Visit to the Botanical Gardens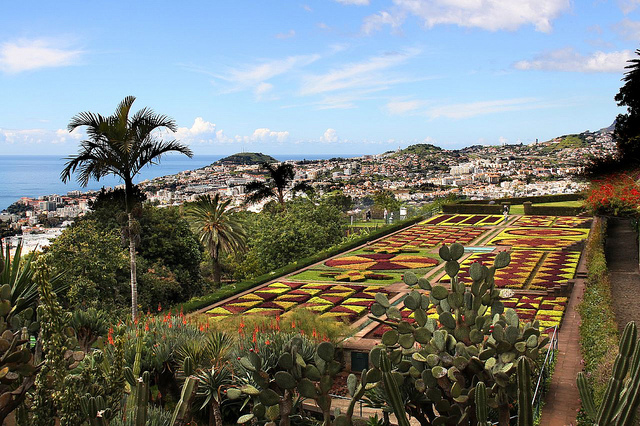 Photo Credit: Flickr
The botanical garden features flora from all over the world and it features over 2,000 different plants and vegetation. You can get to the gardens either by bus or via the cable car.  Here is a list of the gardens that are featured:
Indigenous and Endemic Plants;
Arboretum – Plants from the Himalayas and Tropical Regions;
Succulents – Plants originating, essentially, from South America;
Tropical / Cultivated / Aromatic / Medicinal – Tropical and sub–tropical fruits, as for example Mango, Avocado, Papaya, Coffee and Sugar Cane;
Loiro Park – shelters a notable collection of exotic birds such as Dwarf Parrots or parakeets.
The gardens are open every day except Christmas day from 9:00 am to 5:00 pm during the winter time and from 9:30 am to 5:30 during the summer months. There is a nominal fee to visit the gardens. If you have mobility issues, please plan your trip accordingly before purchasing your tickets. They do have a cable car that goes over the gardens for those who wish to see the gardens but can't physically handle hiking around the rugged terrain.
Enjoy the Spectacular Views That Pico do Arieiro Has to Offer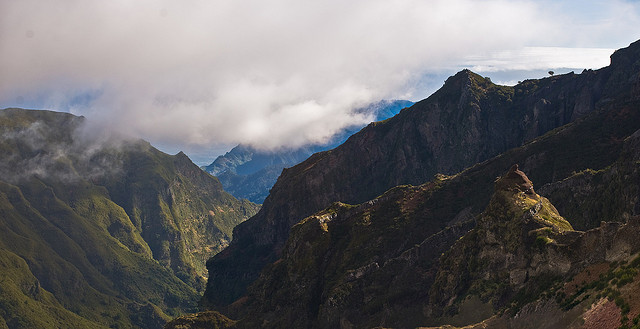 Photo Credit: Flickr
Pico do Arieiro is the third largest peak on the island of Madeira and it is known for its spectacular views. If you happen to visit on a day when the weather is clear, you might be able to see Porto Santo which is a neighboring island that is over 3o nautical miles away to the North. This is a popular tourist spot that you can easily get to by car. Don't forget to bring your good hiking shoes and enjoy the trails too.
It has been a long time since we have gone on a family vacation and over the last several months I have been dreaming of a fun place to visit in the another country. If I am going to dream, I might as well dream big. 🙂 The photos of Madeira look amazing and I had to share them with you.
If you could choose an all expense paid adventure in Madeira which adventure would you choose? Why?
If you find this article helpful and useful, please share it with your family and friends. Sharing helps Uplifting Families grow. Thank you for visiting.
Comments
comments