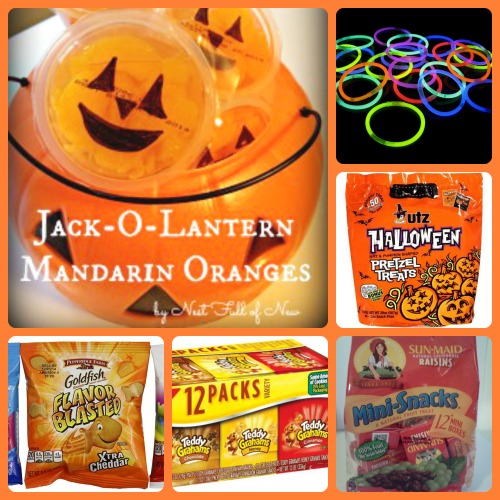 I can't believe that Halloween is in two weeks, it seems as if this year has flown by so quickly. Even though I am not a huge fan of Halloween, I embrace it for the sake of my children. I remember growing up Halloween was a big deal to me and it was always fun going from house to house to get my Halloween bag full of candy. However, times have great changed over the years and it isn't as safe to go trick or treating throughout your neighborhood any longer. This year, I wanted to share my top 7 non-candy treats to pass out to the kids.

Glow Sticks
This year I got the opportunity to review some glow sticks and plan on passing them out to the kids that visit our Trunk at our church's Trunk or Treat. Glow sticks are a fun surprise for the kids and they can wear them immediately. If they do wear the glow stick immediately, it will make them visible so that other cars and people can see them. Plus, you can use any left over glow sticks for fun crafts and games with your kids. I picked up 100 glow sticks from [amazon_link id="B00NQJ2DBG" target="_blank" rel="nofollow" ]Amazon for less than $15 dollars[/amazon_link]. These super glow sticks will glow brightly for 8 to 10 hours and will continue to emit light up to 36 hours.
Bags of Pretzels
If you are looking for a great snack item to pass out to the kids, you can buy bags of those fun Halloween pretzels. The bags are individually wrapped. My kids enjoy these and usually don't even notice that they don't realize that they didn't get candy.
Jack-O-Lantern Fruit Cups
I saw this idea on Tracy's blog Nest Full of New and wanted to share the Jack-O-Lantern Fruit cups with you. Aren't they super cute and healthy (not that kids are looking for healthy treats).  Grab some fruit cups from the store and pull them apart. Simply draw a pumpkin face on top of the fruit cups and pass out to the kids. You can use mandarin oranges or peach cups. You can even use these for class Halloween parties.
Pick Up Individual Boxes of Raisins
Most kids enjoy raisins because they are naturally sweet but the individual boxes make the perfect treat to pass out to the kids. You can find these at your local super market. If you are super creative, you can even dress up the box using stickers to make them look a bit more festive. However, if you do cover up the box make sure that you make it easy for parents to be able to see the original packaging.
Teddy Grahams
These are a huge hit with my children and you can usually find individually wrapped packages in the snack section. They come in several different flavors: chocolate, honey, and cinnamon. These are sure to please most children.
Gold Fish
These are a classic treat in my house so you can't go wrong picking up these fun treats for the kids. There are so many new flavors of gold fish too. You should check out these fun flavors: [amazon_link id="B004P7T7YO" target="_blank" rel="nofollow" ]Smores[/amazon_link], Cookies n Cream, Strawberry Shortcake, Vanilla Cupcake along with the classic flavors. Simply buy individual bags and give the kids kids a tasty treat.
Stickers
Stickers won't be a huge hit with the older kids but the younger kids usually won't complain. You can do a combination of stickers including popular cartoons, Disney characters, and even Halloween styles.
If you do opt to pass out candy this year, you should skip candy that sticks to your child's teeth like Starburst, Tootsie Rolls, Taffy, ect.  I hope you have a Happy Halloween.
I received one or more of the products mentioned above for free using Tomoson.com. Regardless, I only recommend products or services I use personally and believe will be good for my readers.
What kind of treats do you plan on passing out this year for Halloween?
Comments
comments