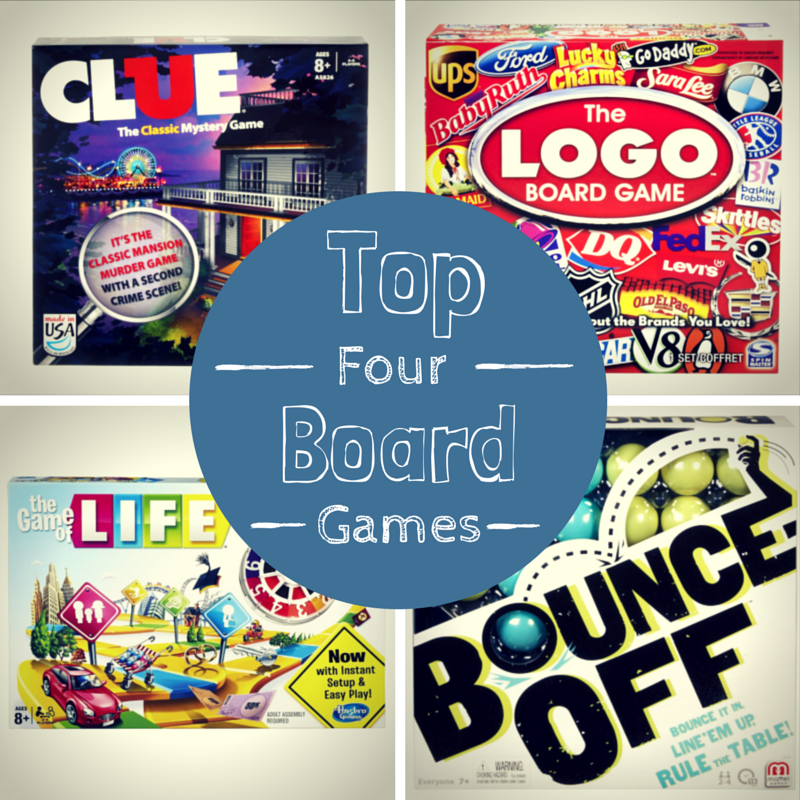 My kids have been going through the Holiday ads and circling things that they want for Christmas, even my youngest son who is 3 years old. It is so cute. He even asks me what I want for Christmas. Today, I wanted to share with you the top four board games that my kids have picked out. They have added them to their Christmas list.
Disclosure: This post may contain affiliate links. All opinions are 100% my own.
Clue 2013
This is an old family favorite that has been upgrade and it is more intense than the game that your parents played growing up. In Clue 2013, you are responsible for figuring out who was murdered at the host at a millionaires mansion or boardwalk. Get the scoop on the new updated rooms, weapons, and guests so that you can start playing detective. Narrow down who did it and with what murder weapon to form an accusation.
More information about Clue 2013:
Features updated rooms, weapons, guests

2-sided game board

Clue game includes 2 versions, the Mansion game and the Boardwalk game

Game includes 2-sided game board with mansion and boardwalk, yellow murder envelope, Clue sheet notepad

6 character tokens, 6 weapon tokens, 27 black Clue cards, 3 red bonus cards, 2 dice and instructions
Buy Clue 2013 on [amazon_link id="B00DUB6RVW" target="_blank" rel="nofollow" ]Amazon[/amazon_link] now.
Logo Board Game
Logos are all around us and this game was made to test your knowledge. There are over 400 cards, that feature multiple questions or a photo. When you are presented with a card, you have to figure out what the logo for the photo or multiple questions. We are all exposed to consumer marketing, even children, after all that is why I am creating this list.
My kids have seen these games on television or their friends told them all about it. Marketing is everywhere including your favorite shows.
Test your knowledge now and buy this game for your entire family on [amazon_link id="B004Z3MLLY" target="_blank" rel="nofollow"]Amazon[/amazon_link] now.
The Game of Life
This is a fun classic game that I enjoyed when I was growing up. If you don't have this game in your game closest to pull out on family game night, you are missing out on a great game for the entire family, it does contain small pieces so it is rated for older children. Then take a spin and drive down the twisting roads. Simply choose college or a career and start on your journey. Along the journey you might pick up a spouse and a few babies while making money along the way. The first person to retire gets a large sum of money and the wealthiest person that retires wins the game.
Buy The Game of Life on [amazon_link id="B00CM2IFT2″ target="_blank" ]Amazon[/amazon_link] now.
Bounce Off
My youngest son has been begging me for this game for Christmas and had to ask my older kids about it. It is a simple game and it is easy for everyone to understand. Don't let the simple instructions fool you! This game is fierce and competitive. This game is a must have and a great game to take to parties, get togethers, or family events.
More information about the game:
It's the ultimate head-to-head competition game!

Race to recreate the pattern on the challenge card by bouncing balls into the grid

The first color to complete the pattern wins the card!

Earn 3 cards to win the game!

Includes 9 challenge cards, 16 balls and a game grid
Buy Bounce Off on [amazon_link id="B00IQ8MVH8″ target="_blank"  rel="nofollow"]Amazon[/amazon_link] and avoid the long lines.
What game do you enjoy playing with your family?
Comments
comments