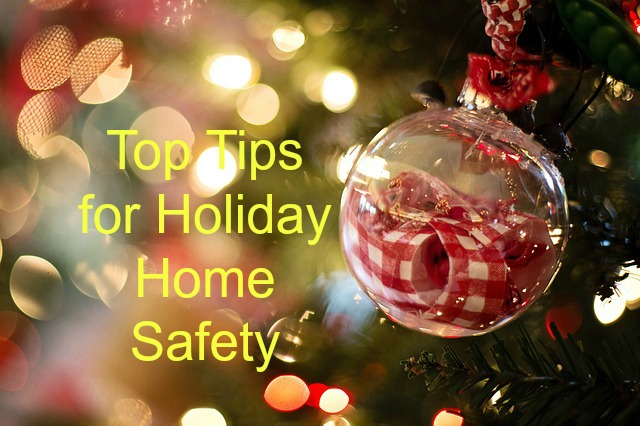 Christmas is one of the most exciting times of the years, but it's also busy and just a bit hazardous. The extra decorations can pose a fire hazard, and accidents are common as people string lights and set up items out in the yard. According to studies, holiday-related accidents result in roughly 13,000 injuries and $17 million in property damage. However, there are steps you can take to protect your family and keep the holidays bright and merry.
Light the Tree
When it comes to fire hazards, the tree is at the top of the list. Electric lights can short out, and a dry brittle tree will catch fire easily. You don't have to give up on trimming the tree though, as there are some easy steps you can take to minimize hazards and avoid problems. Follow these tips to avoid the number one holiday hazard:
Choose fire resistant artificial trees.
Remember that fresh cut trees have more moisture and pose less of a risk.
Keep trees well away from fireplaces, candles, and other heat sources.
Use a sturdy base to prevent the tree from tipping over.
Check every strand of lights for damaged sections or broken lines.
Enjoy the Fireplace
Even if you don't burn a fire the rest of the year, you may want to enjoy this ambiance during the holidays. Before setting up the first log, have your fireplace inspected and cleaned to ensure that it's safe to use. The glass panel on gas fireplaces should be intact and ready for use. When setting up the room, be sure that decorations, furniture, and other items are well away from the fireplace.
Add the Lights
Add light and colors to your home with illuminated decorations, but take the time to thoroughly check all lines. Anything with broken sockets, loose connections or frayed cords should be disposed of immediately.
When setting up lights outside, use ground-fault circuit interrupters, and look for lights that are rated for outdoor use. Pay attention to where lights and wires will be placed so that you can avoid putting them in wet areas like gutters. When running lines along the ground, you can use special risers or covers to keep the connection points dry. Remember to turn off the lights before going to bed, or leaving your home. When using a ladder to mount lights, try to have a partner with you to help steady the based and keep the process safe.
Deck the Halls
Whether you're using boughs of holly or glass ornaments, stay safe when decorating your home. Use flame resistant decorations and place the away from heat sources. If you have small children, then look for shatter resistant ornaments that will be a little safer. Candles are attractive and welcoming, but they should be placed in safe areas that are well out of the reach of pets and children.
Protect the Little Ones
Between the extra activities and decorations, kids and pets have no reason not to enjoy the holidays. However, this can be a particularly dangerous time for them. Poinsettias are a favored holiday plant, but they're mildly toxic to dogs and cats. Beautiful ribbons can turn into choking hazards for children if they're too long. Shiny decorations can turn deadly if they're swallowed by pets or children. Keep a close eye on your little ones to help them enjoy the holiday safely.
Ensure Safety throughout the Home
Take steps to keep your entire home a little safer this year.
Keep your walkways and driveways clear of snow and other debris to avoid accidental falls.
Keep the trees around your house trimmed and make sure to get it removed if it poses any hazard to the house. Professional Tree Maintenance Service at thelocaltreeexperts.com  can help you with all your tree related issues.
When cooking your holiday fudge or other treats, be sure to not leave the stove unattended. Also, check your smoke and carbon monoxide alarms to keep your family safe from fire hazards.
If you're leaving your home during the holidays, be cautious about sharing your plans. Don't announce your traveling plans on social media, and don't mention to strangers that you're going out of state for a week. Before you leave, make arrangements with a trusted neighbor to keep an eye on your home and inform you of any problems. If you live in a snowy area, then ask someone to pull into your driveway and walk into your home every day. This will create fresh tracks and the illusion that someone is present. You can also use timers to have lights or radios come on at random times so that it will appear that the house is occupied.
The holidays are an exciting time, and they should be filled with cheer and joy. Don't take chances with tragic accidents that will impact your family and your home. A little caution and attention to detail will go a long ways towards keeping everyone safe and the holidays festive.
About the Author:
Patricia Dimick is a Denver based writer and a passionate coffee drinker. She loves to write about parenting topics and enjoys DIY projects. When Patricia's not writing or playing table tennis, she usually spends time with her precious daughter and a husband enjoying trips to nature. You can reach her @patricia_dimick.
What did you learn from this post about holiday safety?
If you find this article helpful and useful, please share it with your family and friends. Sharing helps Uplifting Families grow. Thank you for visiting.
Comments
comments