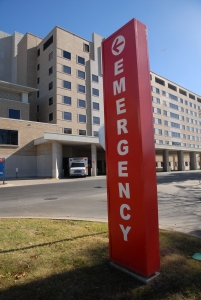 Many pregnant women don't think about touring the hospital that they are planning to deliver at; especially, a mom who has given birth before.  When I was pregnant with my first child, I would have never thought about taking a tour at the hospital.  I took a Lamaze class when I was pregnant with my daughter and as a class we took a tour of the labor and delivery ward and learned about the hospitals procedures.
I remember with my third pregnancy, I thought that because I was a seasoned mom that I really didn't need take a tour at the hospital.  However, I changed my mind and scheduled a tour, mostly because I wanted to learn about delivery options.  I am glad that I did because it gave me an opportunity to learn more about the labor and delivery unit.  I had a birth plan already mapped out in my mind, even though I didn't write down my requests, I knew how I would like to labor.
Disclosure:  This post is for informational purposes only.  All opinions reflected in this post are my own.
Touring the hospital can give you the peace of mind that you choose the right hospital to deliver your child at.  Also, it gives you the opportunity to familiarize yourself with the hospital so that when you come while in pain you will know where to go and what to expect.
Comments
comments