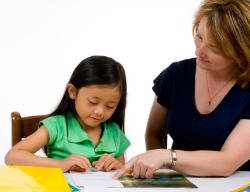 Does your child seem frustrated with their school work?  Are you having a hard time helping your child and don't know how to help explain the concepts to them so that they can learn how to do their own homework?  Tutoring is a great option for both parents and students.  Most tutors can spend one on one time with your child and help them with their homework, test preparation, and so much more.  Check out what Abby Evans has to say about hiring a tutor for your child.
It is that time of year again, when buses begin rumbling through neighborhoods and children have new backpacks and notebooks to carry with them to their new classrooms. With the school year back in full swing, it is also time for parents to be on the lookout for how their kids are adjusting to the next grade.
As moms and dads monitor report cards and sit down with their children during homework time, they may be tempted to wonder if hiring a tutor might help an individual child who is struggling in a particular subject or simply frustrated over schoolwork in general.
Why Might My Child Need Help?
Sometimes, children become frustrated over homework time, Dr. Michael Thompson. This can be a part of the learning process which involves some measure of struggle. However, it can also be a sign that your child is not grasping a concept and may be in need of help.
Finding "help sooner rather than later" is key, writes Laura Lewis Brown PBS Parents. If a child loses enthusiasm for a subject that they previously enjoyed, this may be a sign of frustration and the falling behind. And it is much easier to help your child understand a current concept then to discover months later that they still do not fully understand a fundamental lesson that has been built on for the rest of the year. Because subjects such as math build upon themselves, Richard Bavaria, the Senior Vice President of Sylvan Learning Centers, notes that "vigilance" is necessary on the part of parents.
Comments
comments