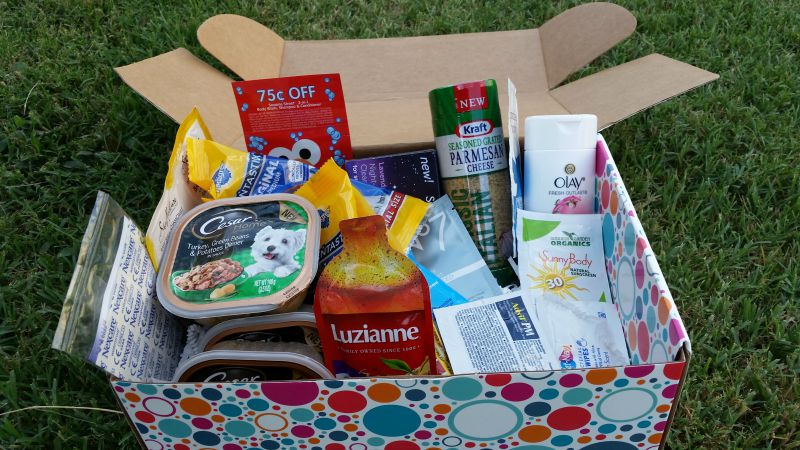 Hey everyone it is that time again. I received my Pinchme blogger box and it is time to show you what I got. My youngest son immediately got excited when he saw the new box because last month I got some bubble bath samples. He loved taking a few bubble baths.
This time my dogs also got some fun goodies too. They got some samples of Casar Home Delights dog food and Dentastix bones from Pedigree. If you have a dog, before you give them any new dog food it is always best to mix a very small amount with their current food. Then slowly increase the amount of food you give them over the next few days. In this case, I received wet dog food and I planned on giving it to Katie. Katie is 8 years old and is considered a senior. She could use the extra calories and wet food is also easier for her to eat. We are currently giving her dry dog food and she likes it. I just have to figure out how I am going to feed her the wet food without the other dogs getting it. They are young and don't need the additional calories. Now onto the other goodies in the box.
I can't wait to try out some of the other fun products that I got in my box. You can also try out these same samples from Pinchme. They are releasing samples tomorrow and they do go quickly so make sure you get to their website first thing so that you can grab the samples that you want. All you have to do is fill out some brief information on your profile, select your samples, check out their other offers for great coupons and deals, and then wait for your own box. Once you receive your samples, you head back to the Pinchme site and do a brief survey to let the brand know how you liked the samples. It's simple and fun to do.
Check out the samples that I got:
Lysol Click Gel Automatic Bowl Cleaner – I got this last month too and placed it in my toilet. I love that it keeps the bowl smelling fresh and clean with each flush.
Shea Moisture Baby Wash & Shampoo/Lotion – I also got this sample last month and love that I got a second sample. It is supposed to help calm your baby. It doesn't contain any harsh chemicals or fragrances.
Goddess Garden Organics Sunny Body Natural Sunscreen – I can't wait to try out this organic sunscreen.
Goddess Garden Organics SPF 30 Sport Sunscreen – This is perfect for children who play sports.
The Original Wet-Nap – These antibacterial hand wipes are perfect for putting in your diaper bag or your child's lunchbox.
Sesame Street 3-in-1 Body Wash, Shampoo, and Conditioner – My youngest son loved using this as a bubble bath last time. It smells great and he can't wait to use it again.
No7 Protect & Perfect Advanced Serum – Supercharge your skincare regime with this serum.
Summer's Eve Lavendar Night-time Cleansing Bar
Advil PM
Nexcare band-aids – These will be perfect for putting on boo boos.
Berocca Mental Sharpness & Physical Energy – I can't wait to try this out. Most days I just don't feel like I have the energy to get things done as a result of my Fibromyalgia. If this helps, I will have to buy some more. I am crossing my fingers that this helps.
Olay Fresh Outlast Cooling White Strawberry & Mint Body Wash – This smells amazing and I can't wait to use it.
Luzianne Pour -N- Stir Sweet Tea – This pouch makes 1/2 of gallon of sweet iced tea. We love sweet tea in our house.
Kraft Season Grated Parmesan Cheese – This sounds delicious. I haven't made spaghetti yet so I haven't had a chance to try this out.
Don't forget to grab your own samples tomorrow, September 22nd, before they are all gone! Click here to get your samples.
Which product would you like to try?
If you find this article helpful and useful, please share it with your family and friends. Sharing helps Uplifting Families grow. Thank you for visiting.
Comments
comments