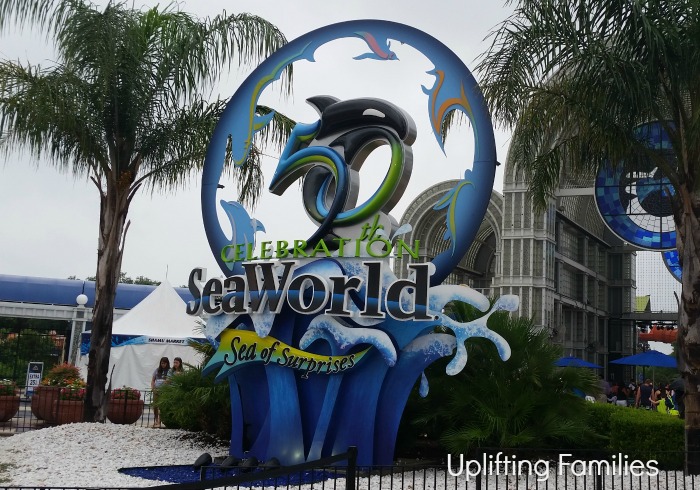 Last week my family had the opportunity to visit SeaWorld and Aquatica in San Antonio, Texas. When we woke up Friday morning, we were kind of disappointed that it was raining and we weren't really sure if we were going to make it. We decided to drive over towards the park and we carefully monitored the radar. About the time the park was about to open, the radar showed that it would eventually stop raining so we decided to go ahead with our adventure.
This year Sea World is celebrating its 50th anniversary. One of their favorite ways to surprise guests at each of the parks everyday is using the SeaWorld Surprise Squad. This squad helps deliver an exciting experience wherever they turn up. They usually have surprises and prizes with them.
Disclaimer: My family received complimentary admission to SeaWorld and Aquatica in exchange for an honest review. All opinions expressed in this post are 100% my own and may differ from your own opinion of the park. I would like to thank Sea World for expediting my request.
Download the Free SeaWorld App for Up to Date Show Information and Map
Before our trip to Sea World, I downloaded their app called SeaWorld Discovery Guide. The app is available on ITunes and Google Play. The app was a huge help when we were in the park because we were able to see when and where the shows we wanted to see. Plus, it had a map. Don't worry if you take your cell phone into the park and don't have a portable charger with you. They do have several charging stations throughout the park so that you don't have to miss photographing the opportunities on your phone.
Arriving at the Park
When we arrived to the park, we stopped to see the flamingos. It was on my youngest son's list of things that he wanted to do during our visit. After the flamingos, we headed towards Sesame Street® Bay of Play®. This area is perfect for the kids. They have Shamu Express®(kids roller coaster), Rio Loco®, Big Bird's Spinning Reef, Grover's Round-Up, Elmo's Dolphin Dive, Playground, Splash Pad, and a live Sesame Street® Bay of Play® Block Party.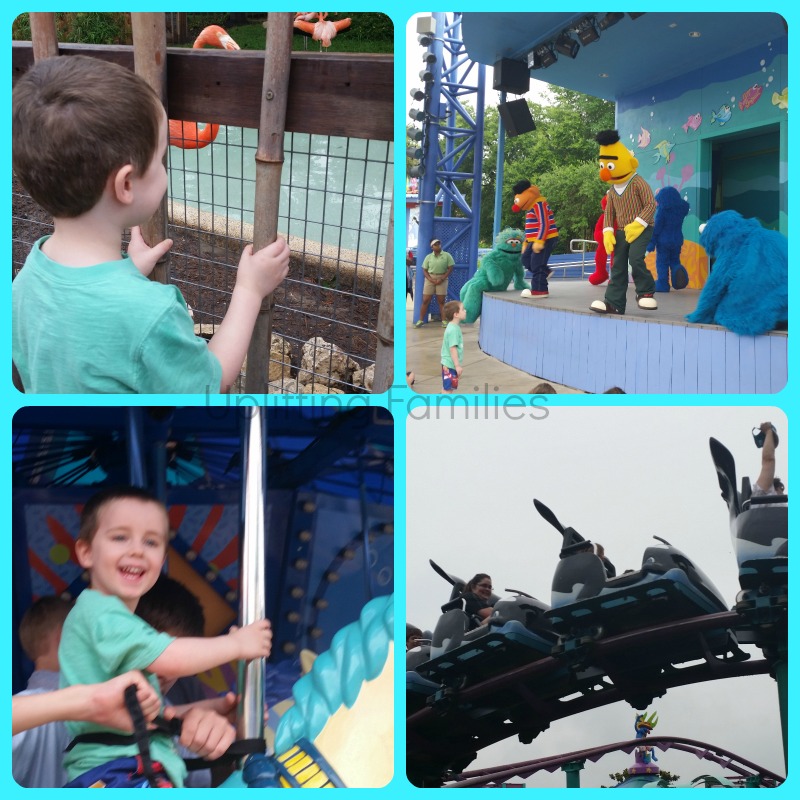 Shamu Theater Features Sea World's 6 Killer Whales
Then we headed off to Shamu Theater so that we watch the Killer Whale show. There are currently 6 killer whales at SeaWorld. One of them is an 18 month old calf that was born at SeaWorld. There were several different shows that featured all of the killer whales. You can catch one or all of the shows: Experience Animals Up-Close, One Ocean, and Shamu's Celebration: Light Up the Night.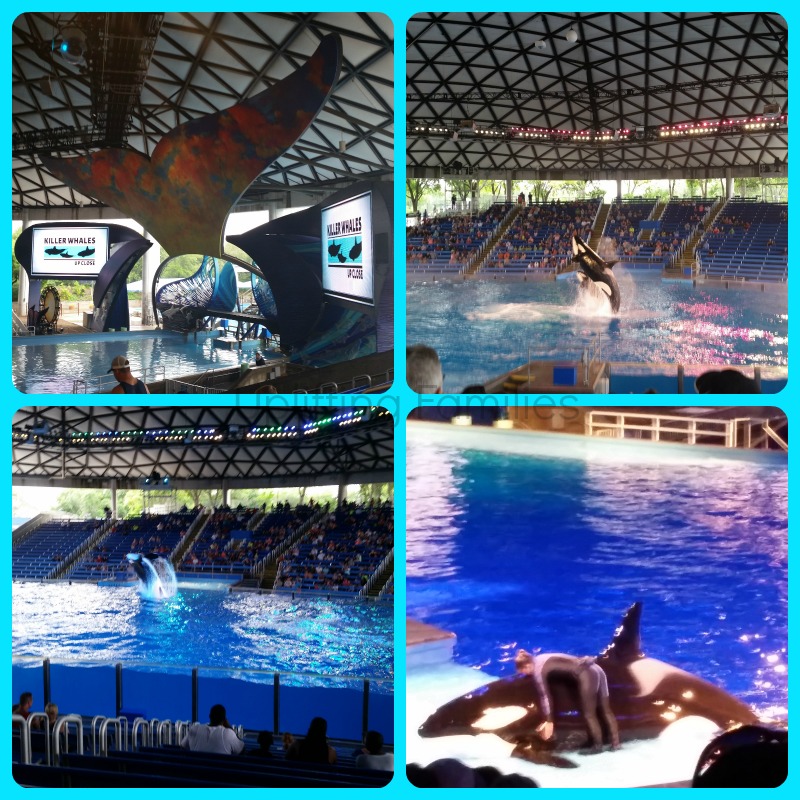 By the time we finished watching the killer whale show, we split up so that my husband could take my oldest to ride the big roller coasters. Meanwhile, me and my younger son headed back to Sesame Street® Bay of Play® to play. After that we decided it was time to grab some lunch.
Stay Hydrated
FYI, you can ask for ice water from any of the concessions stands that serve fountain drinks. The ice water is free (tap water) so that your family can stay hydrated.
Dining Options at Sea World
There are plenty of dining options available inside the park including all you can eat passes. Click here for more information about the all you can eat dining passes.
We packed our lunch and at it in the car. Before exiting the park, you need to make sure that you get your arm stamped so that you can get back into the park. After lunch, we headed to Aquatica. We rented a locker to store our stuff in so I didn't get a chance to take a bunch of photos. 🙁
Aquatia Water Park
My youngest son wasn't tall enough for several of the rides but he still had a blast. I loved that they had various sizes of life jackets available for the kids to wear. This was nice because you don't have to worry about carrying extra stuff around the parks. The water park is only open from 10am to 6pm.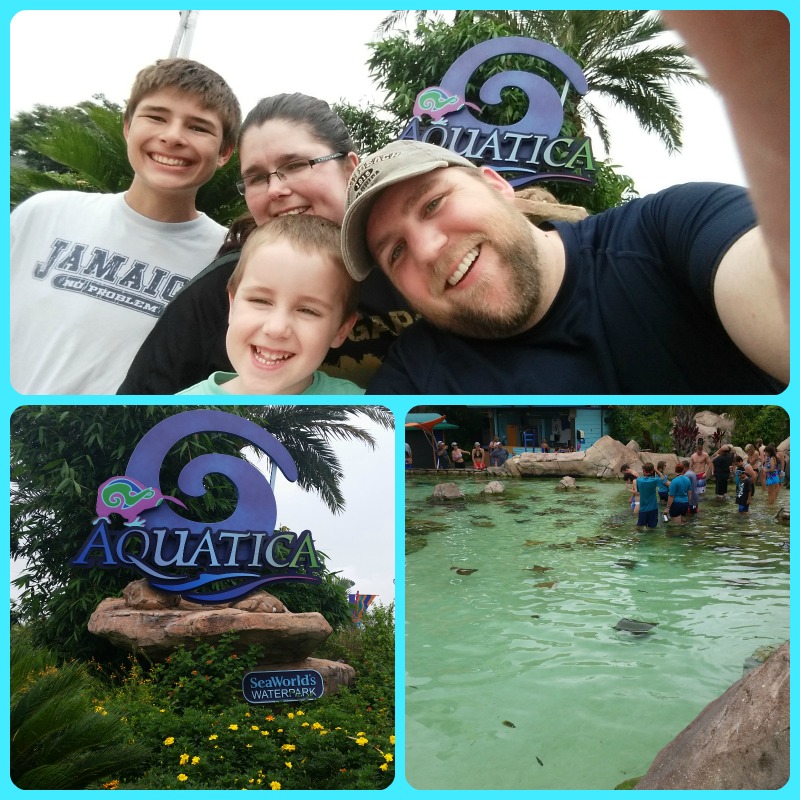 We went down the Kere Reef water slide together as a family. At the bottom of the slide, you could feed and interact with the stingrays for a nominal fee.
Then we headed to an smaller pool so that my youngest son could go down one of the slides by himself . After that my youngest wanted to head to the wave pool (he called it surfing). After that we split up so that my husband and older son could ride several of the other water slides since my youngest didn't meet the height requirements for some of the attractions. My youngest son and I found the kiddy play area. This area was dedicated to the younger crowd. They had several smaller slides that he could ride by himself, several swimming pools to play in, and a huge water playground. By the time, we were ready to leave he was just getting the hang of swimming with the life jacket on and enjoying the water. 🙂
Catch a Few of The Other Fun Shows
I don't want to spoil everything in the park because I want you to be able to enjoy it for yourself and through the eyes of your own children. Here are a few of the other shows that we enjoyed:
Clyde & Seamore's Sea Lion High™ – This show features a fun audience interaction and filled with amazing animal behaviors as Clyde and Seamore go back to school in hopes of getting their diploma. This is a new show that was recently added and it was one of my personal favorites.
Azul® –  This show combines acrobatic, comedy, and fun as the performers feature beluga whales, exotic Pacific white-sided dolphins, and colorful birds.
A Beluga Story – This show takes you behind the scenes as the trainers share some insights into these two amazing whales: beluga whales and white-sided dolphins.
Pets Ahoy – A new comical show that features talents from dogs, cats, birds, rats, pot belly pigs, and a few other animals. A majority of the animals featured in this show were adopted from local shelters in San Antonio. We missed this show. 🙁
Park Information
SeaWorld is open from 10am to 9pm Sunday thru Friday and from 10am to 10pm on Saturday. There will be special park hours on July 3rd and 4th (10am to 10pm). The park is handicap accessible including Aquatica. You can purchase tickets online or at the gate. Right now Sea World is running a special: Buy one SeaWorld/Aquatica 2-Park Ticket, and get a second ticket for 50% off or check out the unlimited visit pass.
Parking is $20 at the gate or you can purchase discounted parking in advance.
Active Duty Military and Veterans
SeaWorld is currently offering free one day admission for active duty members and up to 3 dependents. For more information click here for information about the Waves of Honor Program. This offer expires December 31, 2015.
Don't forget to check out the other SeaWorld locations!!!! Check out all of the photos from our trip to SeaWorld on my Instagram account!!!!!
Has your family been to SeaWorld? If so, did your family enjoy it?
If you find this article helpful and useful, please share it with your family and friends. Sharing helps Uplifting Families grow. Thank you for visiting.