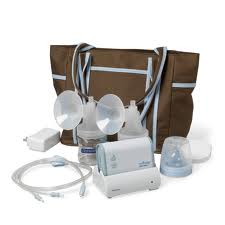 The First Years MiPump breast pump is great for mom's who need an inexpensive electric breast pump. This breast pump is compact and is easy to carry around on the go. It comes with a convenient carrying bag so that you can carry it around without everyone knowing what it is. The bag is stylish and resembles a tote bag or diaper bag.
Disclosure:  This opinions reflected in this post are my own.  I was not compensated for this post.
Like this breast pump? Click on the photo for more information.
Specially Designed Handle For One-Handed Pumping
The First Years MiPump has a specially designed handle that allows mother's to pump using one hand. The bar attaches to the top of both breast shields and the handle is attached to it so that you can hold onto it while you pump. With one hand free, you are able to multi-task while you are expressing breast milk for your baby.
Is There Such A Thing As a Quite Breast Pump?
This breast pump is quite and doesn't make much noise while you are using it. This gives mother's the freedom to express breast milk discreetly. So if you have to pump in a busy office, then this pump is for you.