I am participating in a Vibrant Influencer Network campaign for the Ziploc® Brand Vacuum Sealer System. I am receiving a fee for posting; however, the opinions expressed in this post are my own. I am in no way affiliated with the Ziploc® Brand Vacuum Sealer System Team and do not earn a commission or percent of sales.


Are you tired of throwing money away on food that goes bad before you can eat it or it gets freezer burn sitting in your freezer? I personally throw away a ton of good food that we haven't had a chance to eat especially produce. As a family of five it can get rather expensive feeding a family and I do what I can to cut corners to save money on groceries. I started couponing about a year ago and I have been able to save a ton of money on things that I would normally buy anyways. I was super excited when my Ziploc® Brand Vacuum System showed up on my doorstep. I have always wanted one so that I could start buying meat in bulk and packaging it so that it doesn't go bad before we eat it.
Testing Out My New Ziploc® Brand V159 Vacuum Sealer System
I went to the store on Sunday night to buy some chicken and meat so that I could test out my new toy.  I divided the chicken and hamburger meat into meal size sections so that I could make individual packages of meat for the freezer. I love that there are several different sizes of bags so that I can select the specific size that I need. After I bagged my meat, I placed the bag into the vacuum sealer and I was having some issues getting it to work. I immediately contacted the Vibrant Nation rep for this campaign and Ziploc® Brand Vacuum Sealer System team contacted me to help me troubleshoot the vacuum sealer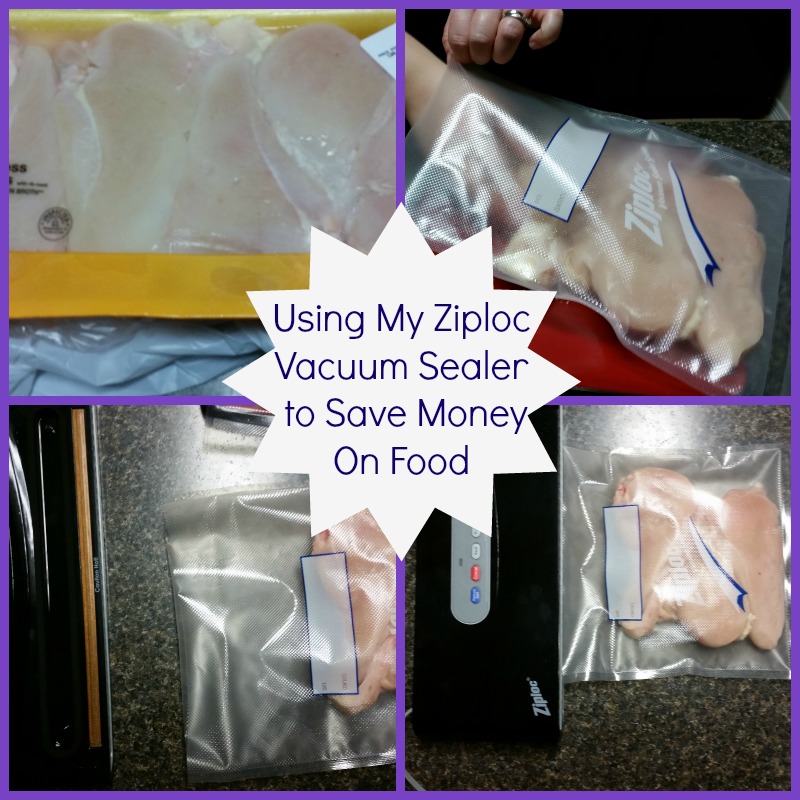 Ziploc® Brand Vacuum Canisters
In the package of goodies that I received, I also received some Vacuum sealer canisters. These canisters are made to work with your Vacuum sealer machine so that you can save produce, cereal, pasta, or anything else that you want to keep fresh. Have you ever opened one of those huge bags of cereal and torn the bag so that it won't seal? I am guilty of this and so are my kids. Then about half way through the bag, I typically notice that the cereal is getting stale. Next time this happens simply put the cereal into the canister and seal them with your vacuum sealer. No more wasted product and money.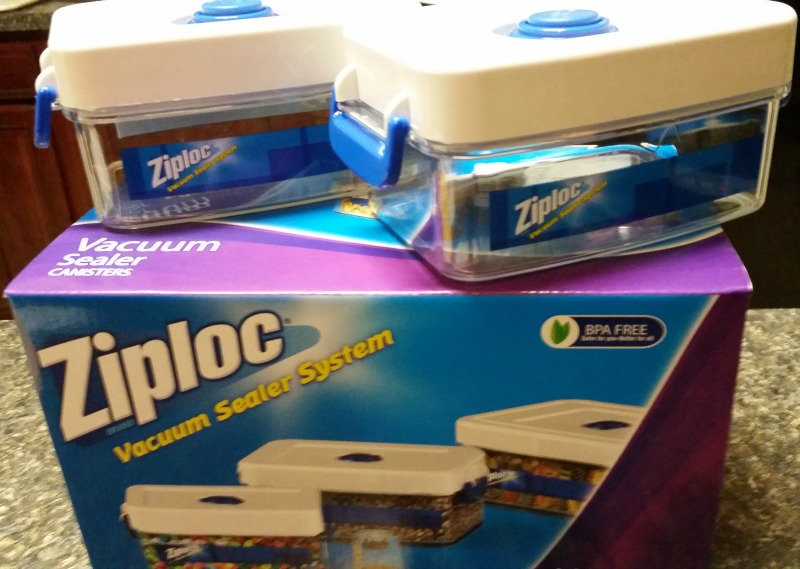 I am going to love my new Ziploc® Brand Vacuum Sealer System for years to come and it will help my family save money on food costs. It is great for preserving food so that you aren't wasting a bunch of money tossing out food that you can't eat.
Other Ways That You Can Use Your Ziploc® Brand Vacuum System
There are many other uses for your vacuum sealer beyond just storing meat, vegetables, or fruit in your freezer. You can use it for the following ways:
Store your important documents inside of a sealed bag and keep in your boat, car, or rv.
Store small craft items for better organization.
Create individual tv dinners for a quick and easy meal.
Create lunchables for your kids.
Make a homemade ice pack.
and many other uses around the house.
Visit the Ziploc® Brand website to grab money saving coupons on Ziploc® Brand Vacuum Sealer System and Bags.
Buy the Ziploc® Brand Vacuum Sealer System here.
Does your family waste money on food going bad in your house before you get a chance to use it?
Comments
comments